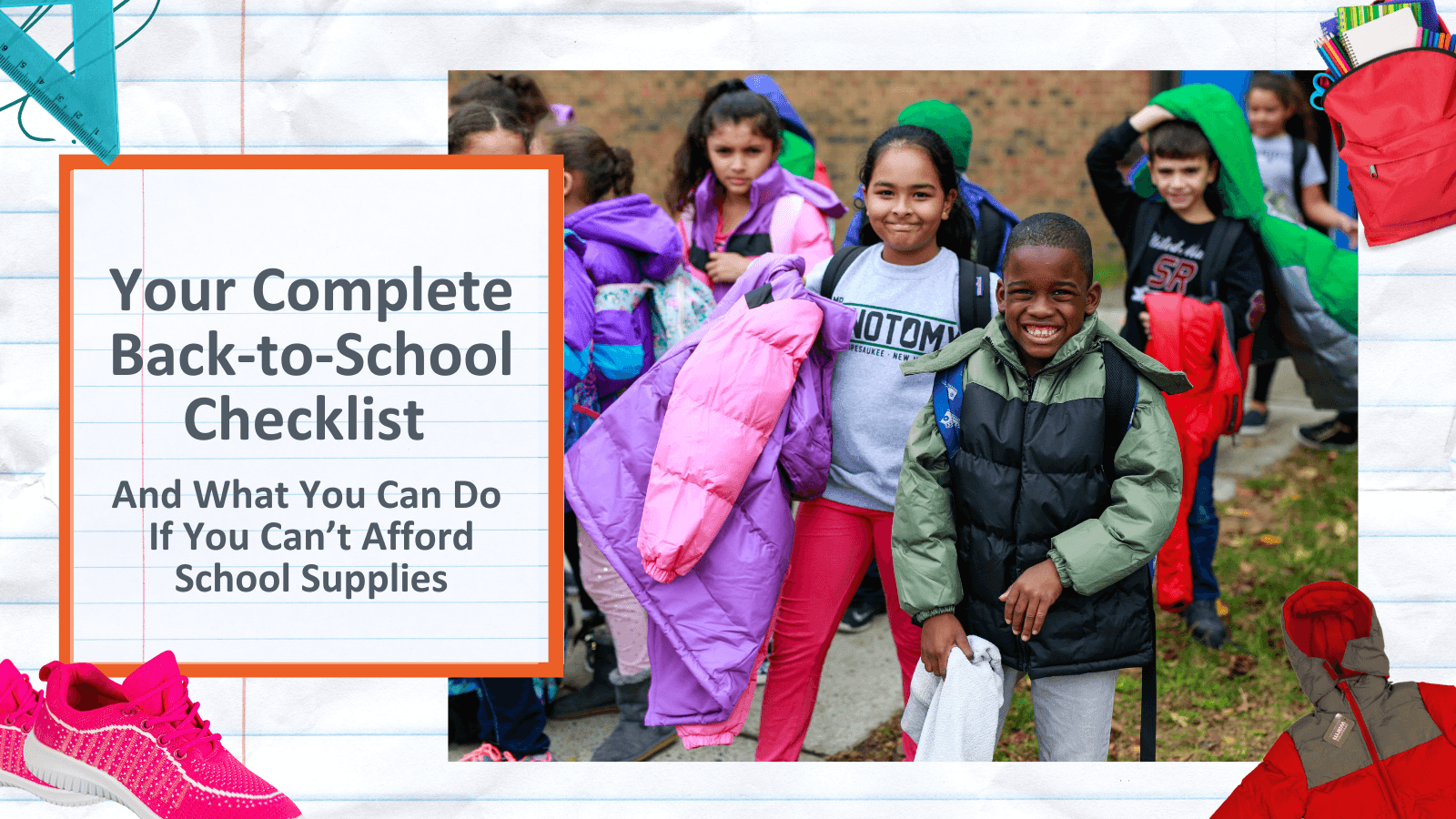 A new school year brings kids the chance for a fresh start—and that means brand-new clothes, shoes, and supplies. But because of inflation, parents will need to spend more than ever to get their kids #SchoolReady this year. The National Retail Federation predicts that school supplies will cost families an average of $864 in 2022, $168 more than in 2019. For families experiencing poverty—and even for those simply living on a careful budget—meeting these expenses on top of rent, food, and bills is a hardship.
Fortunately, there are ways for families to get assistance—and get creative—when it comes to affording supplies. Use our checklist to make sure you have everything to kick off the school year, and if you're feeling anxious about being able to afford everything your child needs, you're not alone! Keep reading for advice on what to do if your budget is tight.
Supplies
Pencils

Ballpoint pens

Markers/crayons/colored pencils

Highlighters

Erasers

Notebooks

Index cards

Loose-leaf binder paper

Graph paper

Folders

Binders

Clear tape

Glue stick
Gear
Water bottle

Lunchbox

Backpack

Pencil case/pouch

Gym bag

Elastic book covers (or repurpose paper grocery bags to cover books for a low-cost option)
Tools & Tech
Computer and/or tablet

Printer (don't forget ink cartridges!)

Calculator

Pencil sharpener

Scissors

Ruler
Clothing/shoes
School uniforms or dress-code-adherent attire

Gym clothes

Shoes and/or athletic-style sneakers

Socks and underwear

Winter coat

Winter hat

Gloves or mittens

What To Do If You Can't Afford School Supplies This Year
Families living in poverty have options when it comes to sourcing school supplies and gear. Additionally, some of these tips are great for stretching your budget even if your family is not currently experiencing financial need.
Shop your home. Before buying everything brand-new, take inventory of the supplies you already have. Chances are that your student didn't use up all of their pencils, pens, and paper from last year.
Try thrift stores and discount stores. You may be able to find brand-new or good-as-new items at places like Goodwill and the Salvation Army. Dollar stores are great for sourcing supplies such as folders, poster board, and certain craft items.
Share costs with another family. Get better prices by buying supplies in bulk and dividing them up with a friend or neighbor.
Try your network. Many families have unused school supplies and equipment lying around the house—especially after kids leave the nest. Before you pay retail price for that graphing calculator or backpack, check sources such as Facebook Marketplace and Next Door.
Encourage your school to sign up for our Wish List. Operation Warm works with schools in low-income communities to provide brand-new coats and shoes to their students at no cost to families. Your child's school can sign up for our Wish List here.
Seek assistance from local organizations. Many nonprofits around the country hold annual school supplies drives to help kids in need. They may provide supplies directly to families or through your child's school. Check with your local branch to learn more. Organizations that may be able to help include:
In addition, you can check here for a list of resources by state.
See if your family qualifies for a free computer. Check here for a list of organizations that provide free tech to low-income households. Many prioritize families with school-aged children, and some even help out with free internet, computer skills training, and more.
How To Help Kids In Need
If your family is fortunate enough to be able to afford school supplies this year and you would like to help a child in need, consider some of the following ways to make a difference:
Give extra (new, unopened) school supplies to a local drive—or start a school supplies drive in your community!
Ask your child's teacher what they need. Many teachers purchase supplies for their students out of pocket and will appreciate any help you can provide.
Donate to an organization that serves kids in need—such as Operation Warm. Your generous gift will help us provide brand-new coats and shoes to children on our Wish List, alleviating a financial burden for their families. And this back-to-school season, The Carnival Foundation is matching all donations up to $25,000, so you can double your impact! Make a gift to ensure every student is #SchoolReady