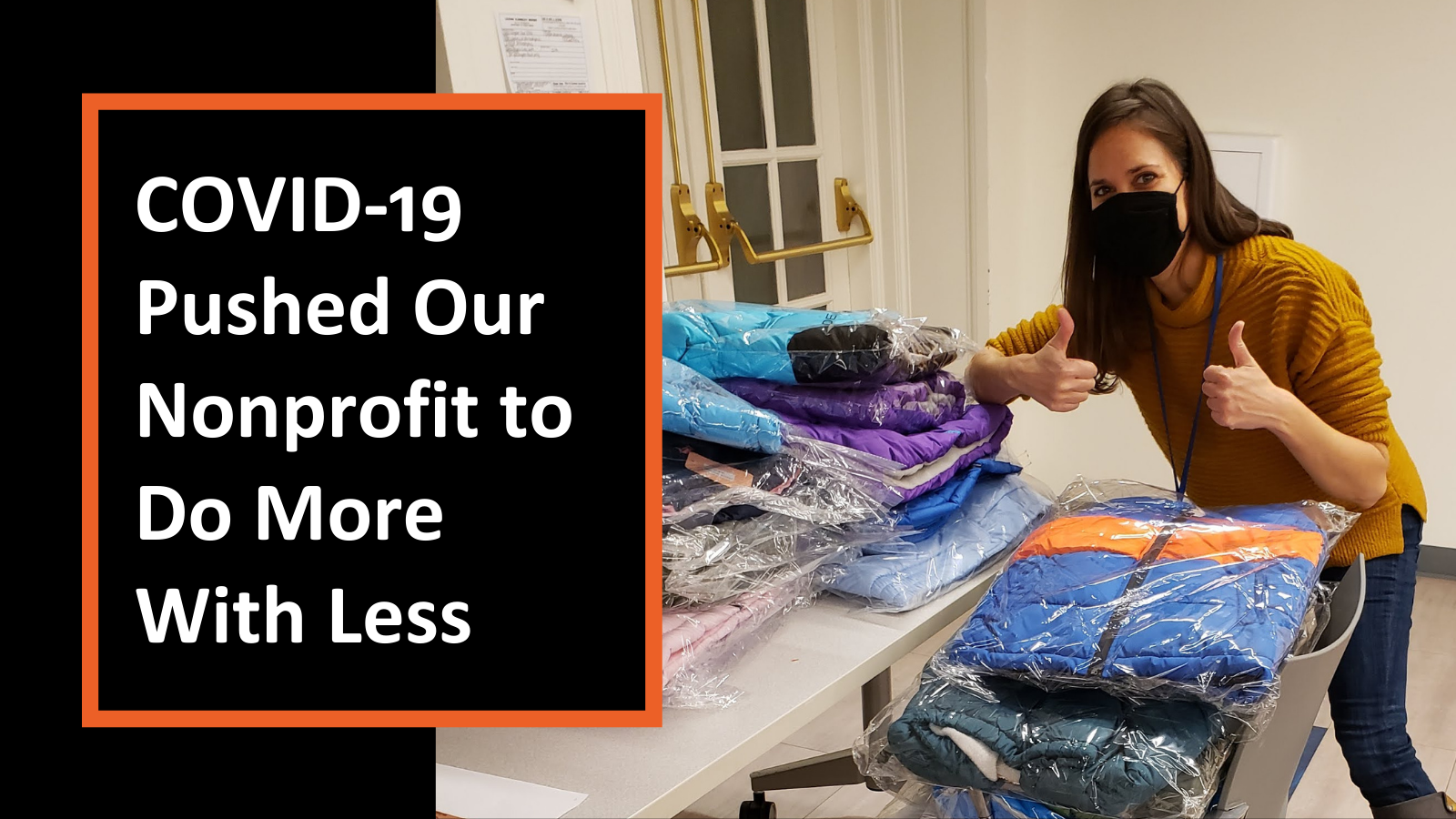 In an average year, Operation Warm receives requests for about 150,000 children's winter coats. This past year, our wish list had over 430,000 requests. Like many nonprofits, we're facing an unprecedented need for services resulting from the impact of COVID-19 on families and kids—many of whom are experiencing poverty for the first time. 
As an added challenge, resources are tighter for all of us. Understandably, donors are first making sure their families are financially stable before helping others through charitable donations. According to Independent Sector, 83 percent of large and mid-sized nonprofit organizations reported a reduction in income due to COVID-19. 71 percent said that as a result, they've had to scale back their services. 
So, how can nonprofits do more with less during this critical time? At Operation Warm, we combined creative thinking with a commitment to streamlining our organization. In the process, we've learned some surprising lessons about what we can do differently—and do without altogether. 
Trusting Our Partners
Rather than use a direct-service model to deliver coats to children around the US and Canada, Operation Warm has always partnered with other organizations, such as schools, agencies, healthcare organizations, and libraries, that enable us to get coats to kids who need them. But in the past, we've had a much larger presence at coat distribution events. Our team not only played a key role in organizing events, but we also had a great time engaging with kids, families, and volunteers in person. This year, we've had social distancing as well as cost-efficiency to consider. So, we've placed more trust in our community partners to do their part without our direct oversight; they rose to the occasion.
As a result, we learned that it's possible to accomplish our coat distribution goals by relying on established channels to ensure delivery. There was no need for our staff to duplicate efforts, so instead, we focused on identifying and fulfilling requests. Realizing we can delegate more than we've done in the past was an eye-opener. It's even changed the way we approach our path of scalable growth, especially as we expand our services to bring kids other much-needed items, like shoes. 
Other nonprofits can follow suit by identifying ways to leverage new and existing partnerships. Maybe that's as simple as bundling services; in our case, one example of this is shipping coats directly to a food pantry for families to pick up along with their groceries. Or, consider pooling resources with an organization that has a similar mission. For instance, two hunger organizations serving different communities could negotiate a bulk discount on supplies. COVID-19 taught us that not only are many nonprofits in a similar position of wanting to connect over shared goals, but the possibilities for collaboration are virtually limitless. 
Keeping Our Priorities in Focus
Besides our public and nonprofit partners, Operation Warm relies on corporate partners to make our mission possible. We've always worked hard to add value for corporations—whether they're seeking to plan a hands-on volunteer event or bring employees together by collecting donations to sponsor coat distribution initiatives. Giving back has the power to strengthen corporate culture and boost morale by empowering employees to make a difference. A commitment to corporate philanthropy also serves as a powerful recruitment tool. A recent survey found that 71 percent of employees want to work for companies that support giving and volunteering. Those are important benefits, and ensuring our corporate partners have a great experience means a lot to us.
But this year, we poured all our time and resources into our ultimate beneficiaries: kids and families. I imagine other nonprofits are making similar calls to shift their priorities from donor outreach and marketing to providing essential services. Of course, spending less on spreading the word isn't sustainable for the long term. It's vital that we continue to connect with donors and introduce new volunteers to our mission. But this year, every dollar needed to go toward meeting unprecedented needs. Being able to pivot slightly—and double down on our focus—was key to staying resilient. At the same time, lower-cost ways of reaching out to donors, like social media, helped us continue to grow support. 
Looking Back and Looking Ahead
Prior to the pandemic, a period of relative economic stability gave us some wiggle room to invest in extras and nice-to-haves. Even simple things like snacks for our volunteers added up. COVID-19 prompted us to get back to the basics. By discovering we can sustainably pare back the resources we need to get the job done, we gained the power to give more. 
Yes, some of our austerity measures are temporary. But even after the most urgent challenges of the pandemic are behind us, we will continue to benefit from what we've learned about delivering coats more efficiently than we ever thought possible. And we'll never forget how, despite logistical complexities caused by the pandemic, so many people worked tirelessly to bring coats to twice the number of children we've ever served in a given year. 
There's more than one way to carry out our mission, and we proved to ourselves that we can adapt quickly when we need to. The most important thing we've learned from this difficult time is that Operation Warm, like every organization, has interchangeable parts that can be replaced, streamlined, or even eliminated in support of the piece that never changes: our commitment to the kids we serve.