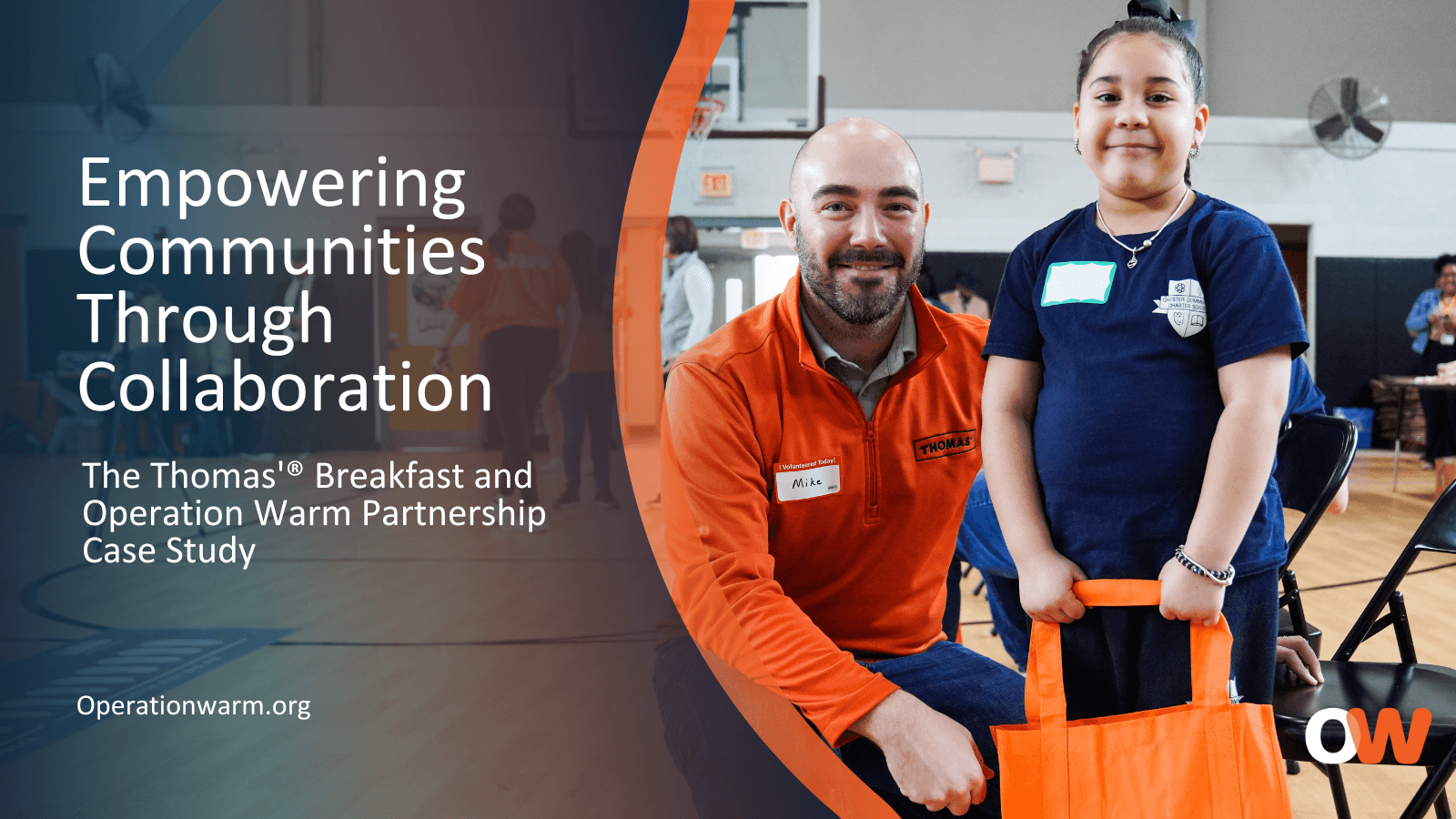 Program History
In 2019 Operation Warm partnered with Thomas'®, a leading producer of English muffins, bagels, and baked goods, partnered with Operation Warm, a national nonprofit dedicated to providing brand-new coats and shoes to children in need.
The Challenge:
The challenge at hand was addressing children in need who lacked warm coats and shoes. The focus extended beyond physical warmth, emphasizing the importance of emotional warmth, confidence, and hope in their lives. It required collaborative efforts and community resources to make a lasting impact.
The Solution
Thomas'® Breakfast and Operation Warm formed a powerful collaboration to tackle the challenge. They implemented the following strategies:
Operation Warm helped Thomas' implement a holistic charitable giving program that included opportunities for both employees and consumer engagement.
Thomas'® with Operation Warm's help organized gifting events in major cities, including Denver, CO; Washington, D.C.; Atlanta, GA; Baltimore, MD; and Philadelphia, PA. These events provided warm coats and shoes to children, addressing their immediate needs.
National Cause Campaign: In 2021, a national cause campaign was launched, involving the donation of 10,000 coats and hosting five gifting events at elementary schools. For National Bagel Day, Thomas' exclusively featured Operation Warm on their social media channels and highlighted the partnership in their national Hulu media campaign, amplifying awareness of the mission."

The partnership between Thomas'® and Operation Warm yielded significant impact and outcomes:
Enhanced Warmth, Confidence, and Hope: Over 25,000 brand-new winter coats and 13,000 brand-new shoes were donated, providing tangible warmth and instilling confidence and hope in the lives of children in need.
Increased Community Engagement: Thomas'® associates actively volunteered at gifting events, contributing 5,700 hours of volunteer work. This heightened community engagement demonstrated the commitment of Thomas'® Breakfast employees and fostered stronger bonds between the organization and the communities it serves.
Greater Visibility and Connection: In addition to providing Operation Warm with control of their social media channels and advertising platforms, Thomas'® implemented a proactive media strategy. The company pitched the gifting events to local press, creating compelling narratives about community impact. This approach not only elevated awareness about Operation Warm's mission but also resulted in significant earned media coverage. The successful media engagement not only strengthened the connection between Operation Warm and Thomas'® customers but also broadened their outreach to potential supporters, effectively amplifying their visibility and impact in the communities they serve.
"Our partnership with Operation Warm has brought warmth and hope to thousands of children, and it has also inspired our team at Thomas'® to deepen our community engagement. We see our role as more than just providing nutritious baked goods; we're about nurturing communities and empowering the future generation. We're proud of our impact and remain committed to this vital work." – Mike Jensen, Senior Brand Manager, Thomas'® Breakfast
Conclusion
The ongoing partnership between Thomas'® and Operation Warm exemplifies the power of collaboration in creating meaningful change for underserved communities. By addressing the challenges faced by children in need, the partnership brings warmth, confidence, and hope to countless families. As Thomas'® looks forward to hosting more warm school events, this collaboration stands as a testament to the transformative impact achieved when organizations unite for a greater cause.