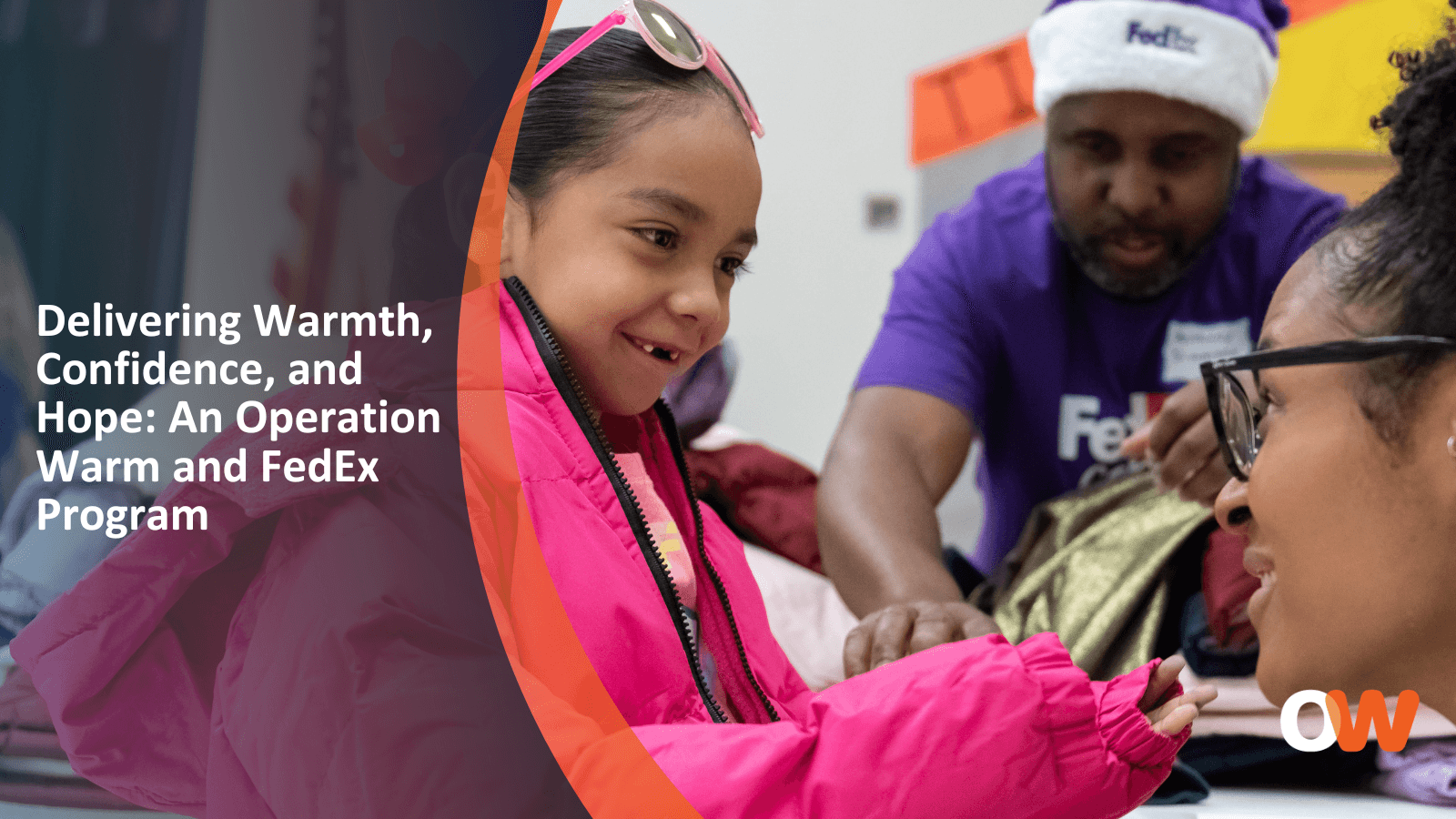 Executive Summary:
This case study explores the award-winning program between Operation Warm, a nonprofit organization providing new winter coats and shoes to children in need, and FedEx, a global leader in logistics and delivery services. This collaboration has enabled Operation Warm to expand its reach, increase its impact, and offer unique employee engagement opportunities for FedEx. In return, FedEx has strengthened its commitment to corporate social responsibility and improved employee satisfaction.
Background:
Operation Warm was founded in 1998, focusing on providing warmth, confidence, and hope to children through basic need programs that connect them to the community resources needed to thrive. The organization collaborates with corporations, community organizations, government agencies, and foundations to provide essential clothing items like coats and shoes to the kids who need them the most.
FedEx, which began operations in 1973, is an American multinational conglomerate specializing in transportation, e-commerce, and business services. FedEx's commitment to corporate social responsibility has led to the establishment of FedEx Cares, a global community engagement program focused on in-kind shipping, volunteerism, and charitable giving.
Objectives:
Enhance FedEx corporate social responsibility efforts by supporting Operation Warm's mission.

Engage FedEx team members through volunteering opportunities and promote cross-departmental collaboration.

Leverage the FedEx shipping network and logistics expertise to expand Operation Warm's reach and impact.

Create a scalable and replicable program model to be implemented across markets in the U.S., Canada, Latin American and the Caribbean.
Strategy and Implementation: The program was executed through the following steps:
FedEx provided in-kind shipping support and financial donations to Operation Warm, enabling the organization to distribute winter coats and shoes to children in need.

FedEx and Operation Warm identified markets for implementing coat- and shoe-gifting programs, focusing on communities where FedEx employees live and work.

FedEx team members participated in local gifting events, fostering community connections and promoting volunteerism within FedEx.

FedEx encouraged team members to share their experiences on social media, raising awareness of the relationship and its impact.

FedEx promoted their events and secured coverage from media in the markets they served.
Results and Impact: Teamwork has led to remarkable achievements:
Expanded Reach: FedEx has helped Operation Warm ship close to 1.2 million winter coats and shoes, contributing to the 5 million children served milestone.

Children Served: Since 2016 FedEx team members have gifted coats and shoes to more than 75,000 children in need.

Engaged Employees: Over 1,400 FedEx team members participated in 2022, with 93% reporting increased morale and pride.

Geographic Expansion: The program grew from two events in one market in 2016 to 62 events in 48 markets in 2022.

Social Impact: 92% of children receiving coats and shoes reported feeling happy because an adult cared enough to provide the gift, and 100% agreed that the gift would help them play outside.
Recognition:
Operation Warm and FedEx received the Golden Halo Award for Employee Engagement category at the 2023 Engage for Good Conference, recognizing the impact of their partnership and Empowerment Thru Volunteering campaign. This campaign was also a key part of FedEx Cares' successful 50 by 50 initiative, in which the company aimed to positively impact 50 million lives by its 50th anniversary in April, 2023.
Conclusion:
Operation Warm and FedEx teamwork demonstrates the power of corporate-nonprofit collaborations in creating meaningful social impact. By leveraging FedEx logistical expertise and commitment to social responsibility, Operation Warm has significantly expanded its reach and impact. Their joint efforts were recognized with the Golden Halo Award for the category of Employee Engagement, highlighting the effectiveness of their Empowerment Thru Volunteering campaign. This award underscores the impact of the program and its contribution to FedEx Cares' 50 by 50 initiative, which successfully reached its ambitious goal ahead of schedule.
For FedEx, the benefits extend beyond improved employee satisfaction to a stronger corporate social responsibility reputation. This award-winning program serves as an inspiration for future collaborations between corporations and nonprofits to address pressing social needs. Both FedEx and Operation Warm look forward to continuing their work together, further expanding their impact, and delivering warmth, confidence, and hope to children in need.
Let's Work Together:
Are you inspired by the impact of the Operation Warm and FedEx relationship? Do you want to make a significant difference in your communities and engage your employees in meaningful ways? Join us at Operation Warm as a corporate partner. Together, we can create a warm, confident, and hopeful future for thousands of children in need. Your organization can leverage its unique strengths, resources, and capabilities to contribute significantly to our mission. Contact us today to explore partnership opportunities. Click here to get started!