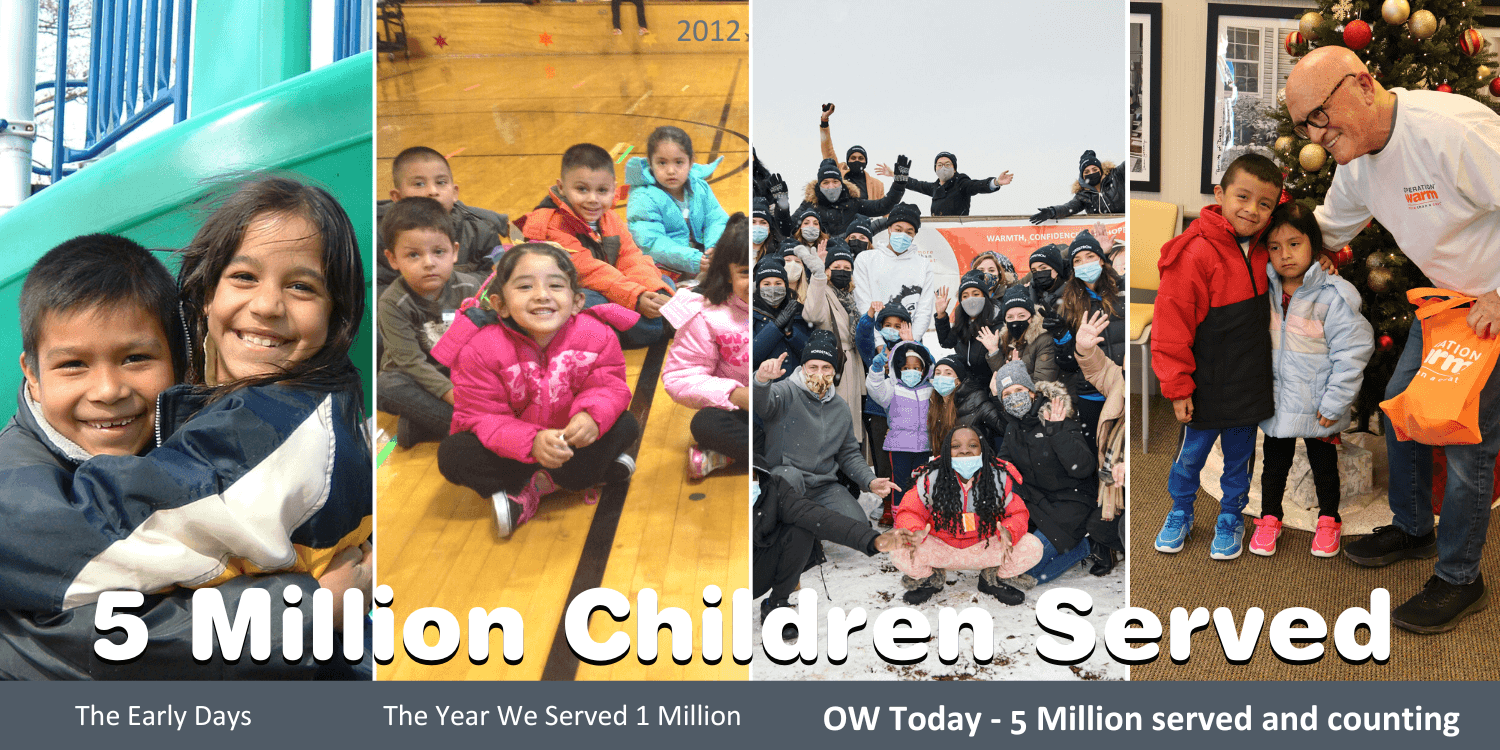 Operation Warm is proud to announce that on December 8, 2022, we served our five-millionth child with the gift of a brand-new winter coat and pair of shoes. Reaching this milestone, which occurred during an event at LCH Health and Community Services in West Grove, PA, was the perfect way to round out 2022 and kick off a winter gifting season full of smiles on kids' and volunteers' faces and memories that will last a lifetime.
Operation Warm has come a long way since our humble beginnings in 1998. Our founder, Dick Sanford, noticed a group of children huddling together for warmth as they waited for the school bus. Surprised to discover that there were kids in his own community of Chadds Ford, Pennsylvania who lacked warm winter apparel, Sanford hurried to a local department store and bought out its entire stock of 58 children's coats. Sanford went to his local church who connected him to LCH in Kennett Square and helped him serve the children in need of the warm apparel. A long-time Rotary Club member, Sanford then asked his club for help to continue providing more kids with the warm attire they needed as he learned of the wider need in his area - taking this act of kindness from 58 coats to 2,000! Operation Warm was born—and today, more than 90 Rotary Clubs across the country support our mission. Our 5 millionth gifting event was the perfect way to honor our beginnings - coming full circle with volunteers from the original rotary club, serving the same beneficiary organization we worked with that cold day in 1998.
"When I gave away those first 58 coats nearly 25 years ago, I couldn't have guessed that Operation Warm would come this far and touch so many lives," says Dick Sanford, founder of Operation Warm. "Since then, we have brought hope to thousands of communities across North America, inspired countless volunteers to join our mission, and are now on track to provide our five millionth child with the gift of warmth."
Over the years, Operation Warm has continued to grow and evolve to meet the ever-changing moment. In 2004, we began manufacturing our own line of brand-new winter coats—a necessary step to help broaden the scope and scale of our mission. By 2008, we'd established our own warehouse and distribution centers, which helped us reach our 2011 milestone of serving our millionth child. Since then, we've grown our network of community partners and volunteers across North America, helped over 1,900 corporations and community organizations launch charitable giving programs in the U.S. and Canada, and offered #MoreThanACoat by using our gifting events to connect families with vital services—from flu shots to library books.
In 2020, we took the major step of launching our shoe program to provide kids with another basic need that often goes unmet: brand-new, proper-fitting footwear. Of course, 2020 also brought considerable upheaval as our organization was faced with figuring out how to operate during the pandemic—and how to meet unprecedented need as more families struggled with poverty for the first time. Our team doubled down, becoming even more creative and resourceful as we sought to be a beacon of hope in the communities we serve. Socially distanced gifting parades, Zoom events with surprise influencer drop-ins, virtual fashion shows, and other initiatives helped keep spirits high in uncertain times.
After discovering that we could operate more efficiently than ever despite the pandemic's challenges, we ended up serving more than 2,100 communities across 59 states and provinces in 2021. While the numbers aren't yet in for 2022, we met our goal of serving our five-millionth child before the end of this year—an accomplishment that reflects the passion and dedication of our employees, volunteers, corporate and community partners, and generous donors who make our programs possible.
In 2023, we'll kick off our 24th year of providing the gift of physical and emotional warmth to kids in need. Although we're proud of what we've achieved so far, we won't rest on our laurels. As of today, our Wish List has over 800,000 wishes for brand-new coats and shoes. Especially now that inflation has made it harder than ever for low-income families to afford coats and shoes for their growing children, our work has never been more important. So, even as we celebrate five million children served and extend our gratitude to all who supported our mission, we're looking ahead to all that we can do to create a warmer, brighter future for children in need. Thank you to everyone who has gotten us to where we are today - Here's to serving the next five million with #Morethanacoat!