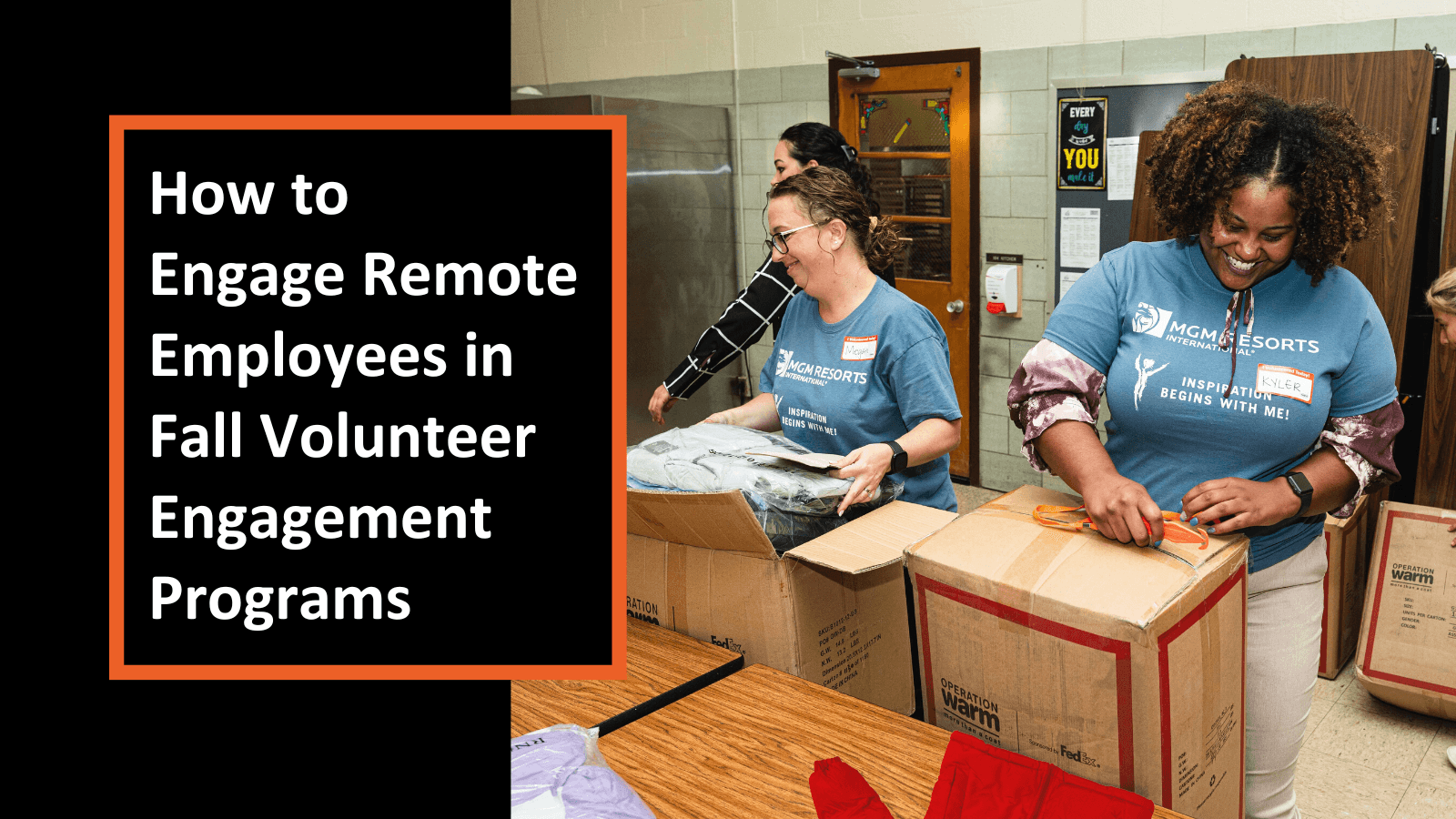 More than half of Americans work remotely at least one day a week and 35% do so every day, according to a recent survey by McKinsey. But while flexible work offers benefits to both businesses and their employees, it does come with some challenges—like keeping your team engaged and connected.
Fortunately, there are workarounds, including our favorite here at Operation Warm: volunteering together. Helping others is the perfect way for employees to bond with each other and tap into a greater sense of purpose. In fact, 71% of workers say they find it imperative or very important to work for a company that supports giving and volunteering.
Looking for some ideas to engage your employees with volunteer opportunities this fall? Here are five suggestions that are perfect for remote teams:
 
1. Volunteer together
Set a day that your team can interact with each other and make connections in person, all while giving back. Operation Warm offers our corporate partners the opportunity to give back in their community and foster better connections with their colleagues. Volunteers dedicate a half-day to getting together and gifting brand-new coats and shoes to children in need in their local area through a hands-on experience that is sure to bring your team closer to each other and their community.
2. Create a forum for sharing individual volunteer experiences
When your team can't be together in person to volunteer, consider planning a day where team members volunteer in their own communities, then gather virtually to share their experiences. Carving out time for volunteering during the work week conveys that your company values giving back. Just as importantly, offering a forum for discussion lets remote employees share the causes that are important to them, learn something new, and get to know each other better.
3. Start a digital fundraiser
Countless digital fundraising platforms and tools exist to help organizations team up and raise money for a great cause. In fact, fundraising is one of the easiest ways to make a difference when you can't be present in person. Put the "fun" in fundraising by staging a virtual walkathon or awarding prizes to the department that raises the most money. And consider partnering with a nonprofit organization, such as Operation Warm, that can help you plan a successful fundraiser.
4. Arrange local meetups
Remote work means employees can live wherever they choose. That said, you may find that most of your team is concentrated near one or more major hubs, making it possible to host volunteer meetups in key locations around the country. Even if everyone isn't able to attend the same event, your company can still bring local team members together to enjoy camaraderie and make a difference.
5. Raise awareness
Lending a hand isn't the only way to help others; education and awareness are also key to creating lasting change. Consider gathering (virtually) as an organization to learn something new—like how to be a better ally, practice antiracism, or foster inclusion in the workplace and beyond. Especially for remote teams, virtual events can be a great way to raise awareness of important issues and inspire employees to start making a difference.
6. Offer paid time for skilled volunteering
Skilled volunteering empowers employees to use their professional expertise to make a difference. For instance, your web developer could spend a few hours a month making website updates for a nonprofit organization or your finance team could volunteer to provide tax assistance to underserved community members—the possibilities are endless! By encouraging employees to make skilled volunteering part of their work week, you can help them find a greater sense of purpose on the job as they share the skills they use every day. Explore ways to get involved at Operation Warm.

Operation Warm partners with top organizations across the U.S. to launch cause marketing, employee engagement, and charitable giving programs that make an impact. Contact us to learn more about engaging your remote employees through opportunities that serve children living in poverty.