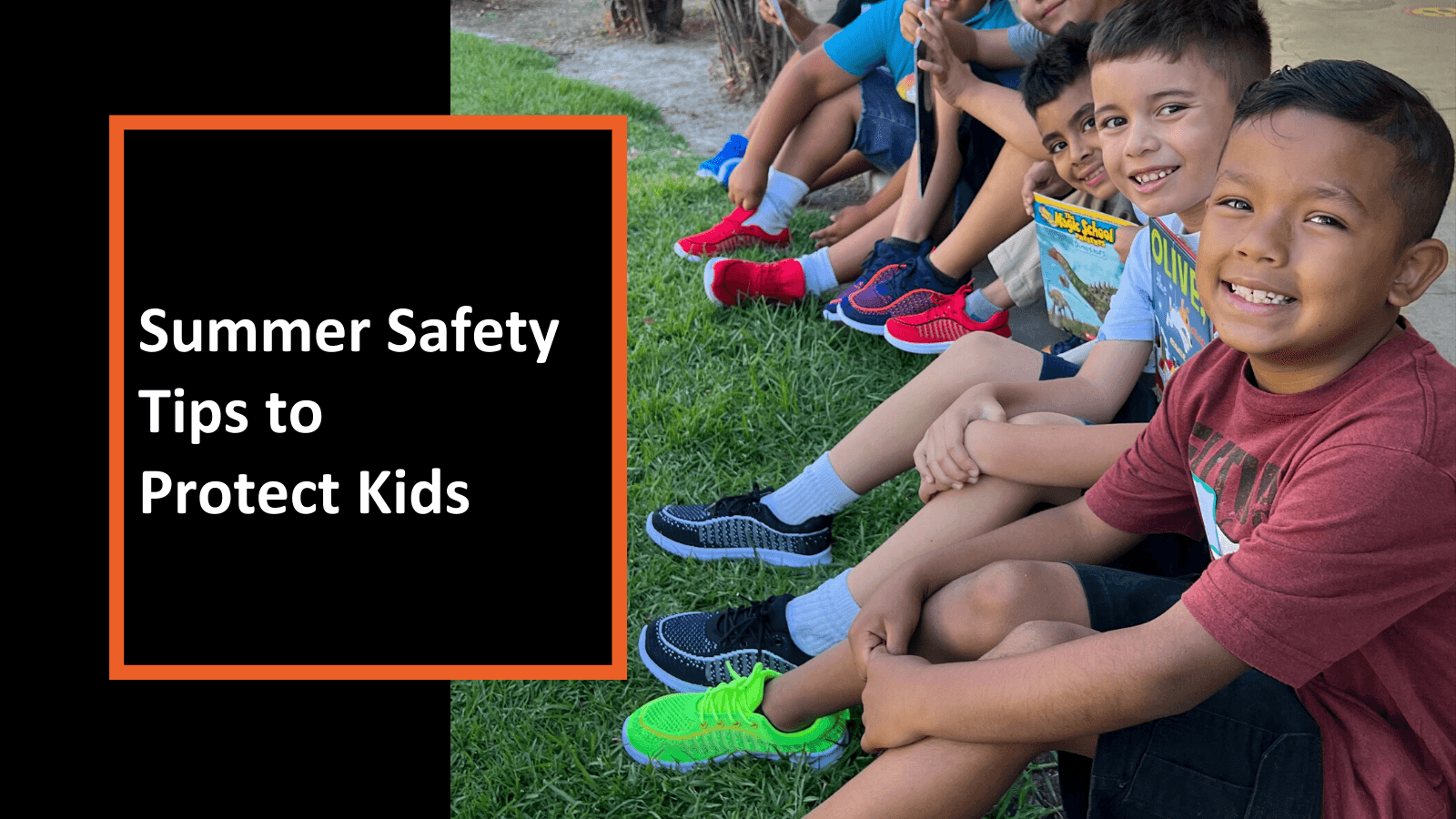 Summer is a great time to be a kid, but it can also lead to an increase in preventable injuries. In 2021, more than 38,000 children visited the emergency room after pool-related accidents, and hundreds of thousands needed emergency treatment for injuries sustained while using play equipment. Help kids enjoy a summer of fun while playing safely with the following tips:
Practice water safety
Drowning is the leading cause of injury death in young children, according to the CDC. There's no substitute for close adult supervision when kids play in or around water, but, formal swimming lessons can help build confidence and teach important safety skills. (The YMCA offers free and low-cost swim classes for kids!) Other recommended precautions include:
Monitor water conditions. When swimming in natural waters, be aware of the weather and factors such as strong currents, which may be especially dangerous to children.
Use life jackets. Everyone should wear a life jacket when enjoying boating and other water sports.
Lock up your pool. Unsupervised swimming can be deadly. If you own a pool, make sure it's safely fenced and gated when not in use.
Prevent waterborne diseases. Regularly test your pool to ensure it has the proper free chlorine or bromine level and pH. If anyone has an open wound, keep them out of the water or use waterproof bandages. Remind kids to avoid swallowing water. 
Play it safe at the park
Parks and playgrounds offer the perfect place for kids to let off steam, make friends, and engage their growing minds through play. But playground mishaps are a leading cause of childhood injuries—especially concussions. According to the CDC, it helps to choose playgrounds with soft footing, such as wood chips or sand, and to make sure kids stick to age-appropriate equipment. Other playground safety tips include:
Look for hazards. Alert kids to tripping hazards, such as rocks or stumps, and advise them to avoid any broken playground equipment.
Use equipment properly. Kids love to invent their own games on the playground, but make sure they aren't misusing equipment in ways that could lead to injury. Jumping from swings or slides can be especially dangerous.
Ensure kids are properly dressed. Sturdy, closed-toed shoes help kids stay safe while running and climbing. Avoid footwear such as flip-flops, which can lead to tripping or hurt toes. And leave necklaces at home—they can get caught on playground equipment and cause injury.
Keep bugs at bay. Check kids for ticks after they play in grassy or wooded areas, and advise them to avoid standing water, which attracts mosquitoes. Insect repellent is safe for most children, but follow safety precautions when applying.
Have (safe) fun in the sun
Everyone loves a warm, sunny day, but risks ranging from sunburn to heat exhaustion can put a damper on the fun. To protect young skin from damage, the CDC recommends applying (and regularly reapplying) a thick layer of a broad spectrum sunscreen that blocks both UVA and UVB rays and has an SPF of at least 15. Be sure to monitor kids for signs of heat illness—including muscle cramps, headaches, dizziness, and increased thirst. And use the following tips to help everyone stay safe in the sun:
Bring plenty of water. Remind kids to take frequent hydration breaks, especially if they're playing hard. Teach them to recognize the signs of dehydration, including dry mouth and fatigue.
Dress properly. Encourage kids to wear a hat and sunglasses to stay sun-safe.
Choose shade. Stay under a tree or picnic shelter when the sun is at its most intense. When headed to the beach, don't forget the umbrella.  
Choose outdoor activities wisely. The hottest days may not be the best time for sports or intense activities. Instead, try a walk in the woods or a dip in the pool.
We hope you and your family enjoy a fun, safe summer! Want to help us empower kids to get the benefits of safe outdoor play? Consider making a donation to provide brand-new athletic-style shoes to kids in need.