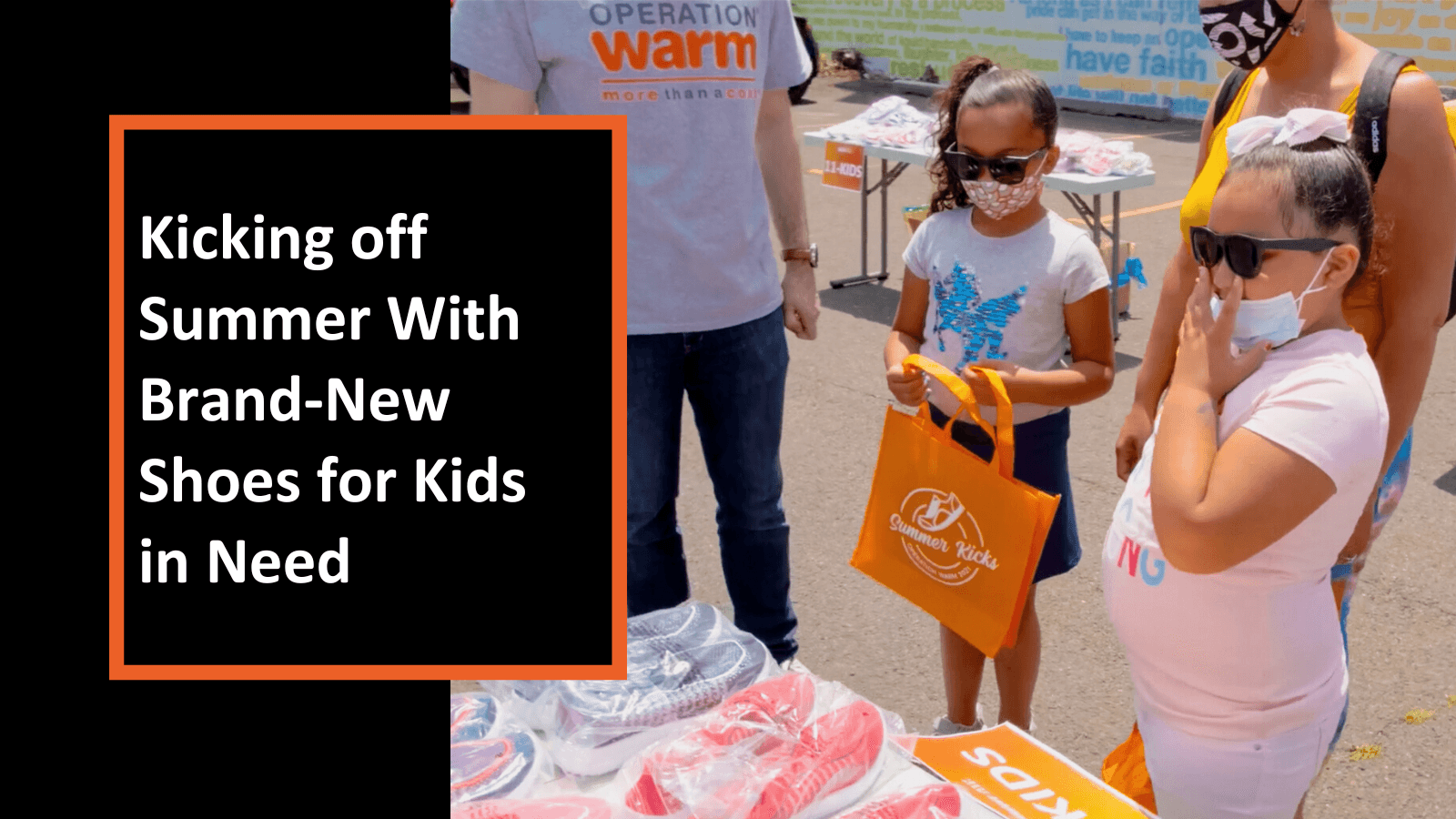 After a successful winter coat season, Operation Warm is kicking shoe season into high gear. For the second year in a row, Operation Warm is embarking on a Summer Kicks initiative to gift brand-new shoes to kids in need across the country and encourage safe outdoor play. It's our goal to set kids up for a summer of fun—and you can help!
What is Summer Kicks?
It's an initiative that gifts brand-new, athletic-style shoes to kids in need throughout the summer. Operation Warm will kick off with three events, right in our home town. These events will benefit  Head Start programs in our neighboring communities of Darby, PA; West Chester, PA; and West Grove, PA. From there, we're encouraging partners to head to their communities across North America and join us in this summer long initiative.
Why shoes?
For families living in poverty, keeping growing kids in shoes is a formidable expense. As a result, many kids go without proper-fitting footwear. In fact, up to two-thirds of kids wear the wrong size shoes, which can lead to foot pain and other health issues. Without comfortable shoes, kids aren't as likely to get the outdoor exercise they need and may miss out on the physical, emotional, cognitive, and social benefits of play. Operation Warm aims to change that by holding shoe gifting events around North America. Kids can get measured for their correct shoe size and choose a pair in their favorite color. It's the very first step to a great summer!
How can I help?
Last year, we provided shoes to more than 65,000 kids, and this year we aim to serve even more! Operation Warm offers three great ways to get involved:
Fund shoes for kids in need. Your donation will help provide a pair of brand-new shoes for one (or more!) kids on our Wish List.
 
Get your workplace involved. Looking for an opportunity to engage your team and support your community? Sponsoring a summer shoe program is a fun way to bring everybody together for a special cause.
 
Become a community partner.  Is your religious organization, club, or other community organization seeking ways to make a difference this summer? Sign up to become a community partner and fund a shoe program for local children. We'll provide the guidance, information, and fundraising tools you need to get started.
As you prepare to kick back and enjoy the warm weather, we hope you'll consider supporting our efforts to help every kid enjoy a fun, safe summer!