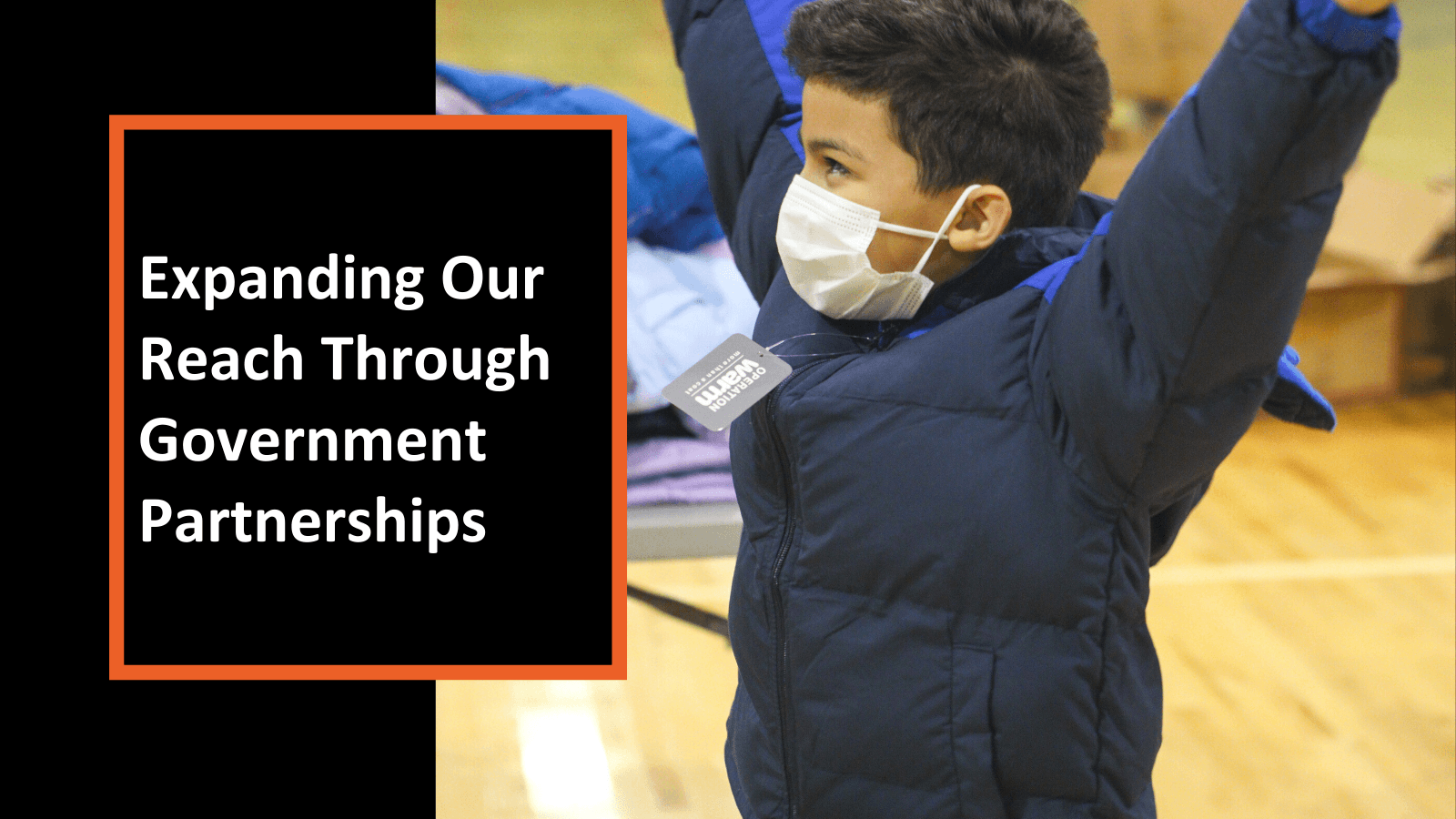 Nonprofits have played a vital role in responding to the COVID-19 pandemic, providing essential services to Americans during these challenging times. At Operation Warm, we saw record levels of need for coats and shoes as a result of the pandemic's impact on low-income families, and we rose to meet this need by serving over half a million children last year. We couldn't have done it without government partnerships that enabled us to fund wide-reaching coat distribution programs in the communities where our services are needed most.
In 2021, state, local, Tribal, and territorial governments received additional support from the American Rescue Plan, which provides $350 billion in COVID-19 relief funds to aid in economic recovery from the pandemic. This aid is available to be spent through the end of 2024 and can be deployed to deliver direct assistance to households, small businesses, and industries. Governments can also partner with nonprofits to more efficiently use funds for community relief, and many of them have seen the value of doing so. 
Why partner with nonprofits to put relief funds to their best use?
Because nonprofits tend to be deeply connected to the communities they serve and have grassroots-level knowledge of local needs. They also have the expertise needed to tackle the challenges of delivering on these needs—for example, by knowing the most cost-efficient way to stock a food bank or the most effective strategies for connecting underserved families with the mental health resources they need.
To illustrate, Operation Warm has spent decades developing the supplier connections necessary to produce coats and shoes at scale. Over the years, we've navigated roadblocks related to rising costs in the manufacturing and shipping sector, supply chain logistics issues, and the ongoing challenge of operating as sustainably as possible. We've not only gotten coat distribution down to a science, but we've built strong relationships with corporations, volunteers, and community organizations that empower us to offer #MoreThanACoat—in part, by using distribution events as a means of connecting families to additional services ranging from housing assistance to vaccines.
In other words, government organizations don't have to reinvent the wheel when delivering essential services. They can use funds more efficiently and get better results through nonprofit partnerships In turn, nonprofits—many of which have experienced a drop in donations as a result of the pandemic—have the funds they need to carry out their vital work.
At Operation Warm, we've joined forces with various government partners, such as Ohio Governor Mike DeWine's Office of Faith-Based and Community Initiatives (GOFBCI), which aims to "Build a state-wide network of compassion in Ohio among the faith-based and nonprofit sector that serves as a safety net for Ohioans in need." GOFBCI has partnered with Operation Warm for the past seven years. In 2021, they gifted 8,640 coats and 5,496 pairs of shoes to underserved children throughout the state. These items were distributed via various beneficiary organizations: 11 receiving coats, 24 receiving shoes, and 75 receiving both coats and shoes. By working together with these organizations and Operation Warm, GOFBCI was able to act quickly to deliver on the urgent needs of Ohio children.
Operation Warm is grateful for the support we have received from our government partners in 2021, and we urge other government offices to consider the essential role nonprofits can play in helping to deliver aid equitably and efficiently. Get involved today.