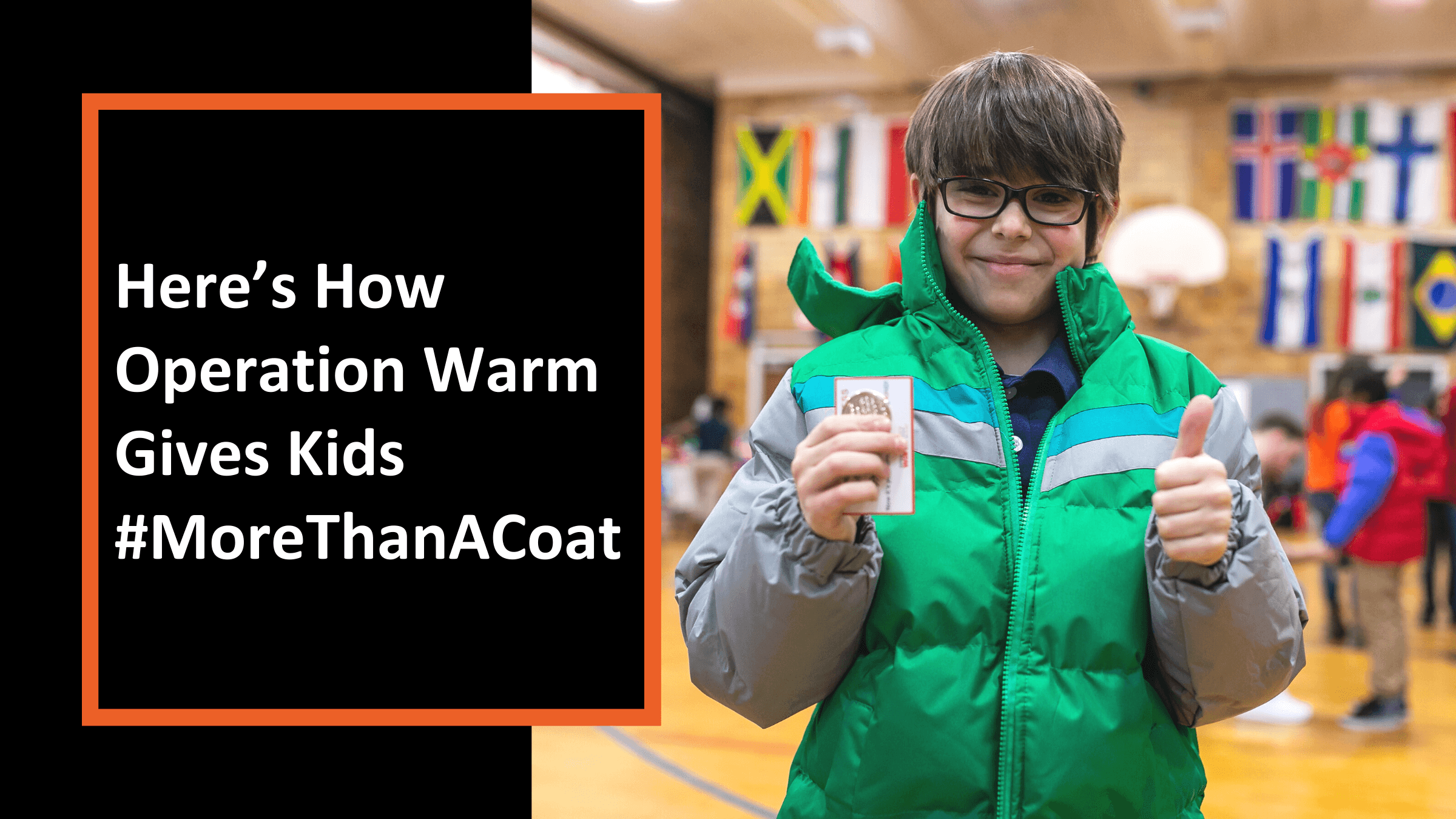 After more than 22 years of delivering brand-new winter coats to children in need, we're experts on what makes a coat kid-friendly: their choice of style, colors to suit every personality, and of course, warmth on even the coldest days.
When we launched our Warm Soles program in 2020, we put the same care and attention into developing sturdy, athletic-style shoes kids love to wear. In 2020, we gifted over 525,000 coats and 30,000 shoes to children in need, and our plan is to serve even more children this year.
But along with the tangible benefits of a coat and shoes, our mission is about so much more: everything kids can do—and the opportunities they can access—when they have new, weather-appropriate apparel.
That's the meaning behind our tagline, "More than a coat." Beyond physical warmth, our coats and shoes help children feel the confidence they need to socialize and succeed, the emotional warmth that comes from knowing the community cares, and hope for a bright future.
That promising future starts in the classroom. But according to Attendance Works, a national and state initiative to improve school attendance, children experiencing poverty are four times more likely than their more affluent classmates to be chronically absent. A major reason, according to researchers at Johns Hopkins, is lacking appropriate clothing in inclement weather. While absenteeism is a complex problem with a variety of interconnected causes, equipping kids with warm, well-fitting apparel can help eliminate school days missed due to cold weather and could even help address other causes of staying home, like low confidence and self-esteem.
Chronic absenteeism impacts kids' literacy and math proficiency and can prevent them from progressing at the same rate as peers who attend school consistently. But it's not just their academic preparedness that suffers when kids miss school. Schools provide essential services that play a critical role in addressing the social determinants of health: nutritious meals, health and wellness screenings, exercise, and opportunities to socialize.
In 2020, over 15 percent of American households with children experienced food insecurity.
For children living with hunger, skipping school may mean missing the only opportunity to eat that day. School meals also tend to be healthier than what's available at home. Compared with nearly half of children's meals sourced from grocery stores and 80 percent sourced from restaurants, only 24 percent of school meals are of poor nutritional quality, according to researchers at Tufts University. In other words, the breakfasts and lunches a child eats at school may be their most balanced meals, providing the nutrition and energy they need to get the most out of class.
Missing school also means missing programming that take place after the academic day—like extracurricular activities and afterschool programs. Such activities improve children's lives through exercise, friendship, and the numerous benefits of play—including heightened creativity, motor skills development, and improved learning outcomes. And for many students, afterschool programs are an opportunity to receive much-needed academic support. 69 percent of students who attended such a program improved their homework completion and class participation, and 62 percent improved their behavior in class. Making sure every student has a coat and shoes drives program attendance and enables full participation, so kids can get the most out of opportunities designed to help them thrive.
First and foremost, Operation Warm's mission is to open doors for children: into the classroom and the essential services they receive there, as well as out to the playground and the world beyond home. But by doing so, we also unite entire communities—including schools, libraries, nonprofit organizations, and caring volunteers who come together to deliver coats, shoes, and other services.
For example, our A Warm Welcome to the Library program offers a new coat and books to each child who participates, with the added benefit of introducing their families to the many resources available at the library—from literacy tutoring to career support services. 98 percent of parents told us they felt more connected to the community as a result of the program. And, more good news: nearly all of our volunteers tell us that after participating in one of our events, they are more likely to support community efforts to help children in need. Given the extreme challenges many communities have faced as a result of the pandemic, building and strengthening these connections continues to be critical.
In 2021-2022, our plan is to serve more children than ever before.
We'll distribute 600,000 coats and 100,000 pairs of shoes—all while promoting access to vital services and extending a message of caring and hope. We're proud that every item we deliver not only does the important job of protecting kids from the cold but offers #morethanacoat: the gift of warmth in its many and wide-reaching forms.