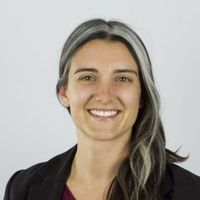 GLEN MILLS, PENNSLYVANIA (September 4, 2020) – Operation Warm, a national nonprofit that manufactures brand-new coats for children in need, announced the promotion of Grace Sica to the role of Executive Director. She will have primary responsibility for the overall strategic and operational management of Operation Warm's staff, programs, expansion, and execution of its purpose.
"For the last four years, Grace has been a key part of the success of the Operation Warm mission, and we are thrilled she accepted this important promotion," said Dick Sanford, founder and CEO of Operation Warm. "Grace offers a fresh perspective built on a foundation of experience within our organization. Her talent for maximizing social impact through wellbeing initiatives has been proven over and over again."
"I've seen firsthand the feeling of security and hope a new, warm coat can provide to a child in uncertain times.  It's a mission that has resonated with me since the day I walked thru the door," Ms. Sica said. "The recent and on-going impact of COVID-19 has presented some challenges for Operation Warm and an opportunity to support more children than ever.  I look forward to navigating the organization through this unprecedented environment and beyond."
Ms. Sica joined Operation Warm in 2016 as the Director of Partnerships and quickly rose to management positions in business development and operations. She previously held strategic roles at TerraCycle and the Sierra Club.
Ms. Sica has a BS Journalism and Environmental Policy from Rutgers, and is pursuing an M.B.A. from Villanova University.
About Operation Warm
Operation Warm is a national nonprofit that manufactures brand-new, high-quality coats for children in need. We partner with compassionate individuals, community organizations, and corporations across North America to provide emotional warmth, confidence to socialize and succeed, and hope of a brighter future through the gift of a brand-new coat.  Over the last 20 years, Operation Warm and our partners have used the coat as a bridge for families in need to access everything from flu shots to new books.