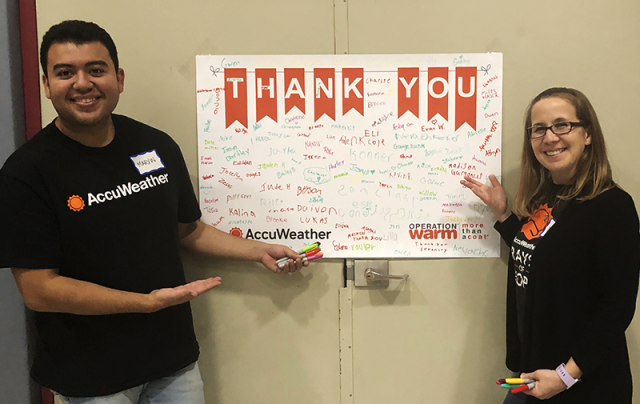 "Our main goal is to give these kids hope." AccuWeather Brings Warmth to Students in Altoona, PA
On December 4, thirty AccuWeather employees volunteered their time to deliver more than 400 warm, brand new coats to the children of Penn-Lincoln Elementary.
The need for coats is especially important for the students of Penn-Lincoln because many of them walk to school every day. When the weather gets cold, things become particularly difficult for Penn-Lincoln families because many cannot afford the appropriate coat for their children. It becomes a truancy issue when children stop attending school due to freezing travel conditions. This is why Global weather and digital media leader AccuWeather teamed up with Operation Warm. The marriage was a perfect fit. Together, they made sure every single student at Penn-Lincoln Elementary received a brand new coat. Every child had the opportunity to select their brand new coat, in their favorite color and style. Now, as they walk to school or play outside with their friends, they feel confident and comfortable..
Penn-Lincoln Elementary School Counselor, Heather Diehl, explained why the need for basic items, such as warm coats, was so critical to the success of their students. Heather has been working at the elementary school for 14 years. She originally started at the high school level before she began working with the younger children at Penn-Lincoln. When Heather saw the amount of need at Penn-Lincoln Elementary, she knew that is where she could do the most good.
Penn-Lincoln has a 90 percent poverty rate, and a large need for clothing, specifically winter clothing. Heather explained that every year they have homeless families reach out and ask for coats or holiday meals. Heather knows that many of her students do not have a stable home-life; and are often sharing or moving in and out of different homes. Discovering this is what made her feel so compelled to help her community. Hearing that Operation Warm and AccuWeather were able to provide coats for the children of Penn-Lincoln was a breathtaking moment for her.
AccuWeather's kindness made a huge impact on the students and families at Penn-Lincoln Elementary. And the experience of cloaking the students in their new coats and seeing the looks of pride and joy on their tiny faces warmed the hearts of the people at AccuWeather too. The simple gift of a warm coat provided hope of a better future to their community.
Interested in aligning your organization with Operation Warm's mission to provide warmth, confidence and hope to children in need? Learn more about our corporate partnership opportunities.