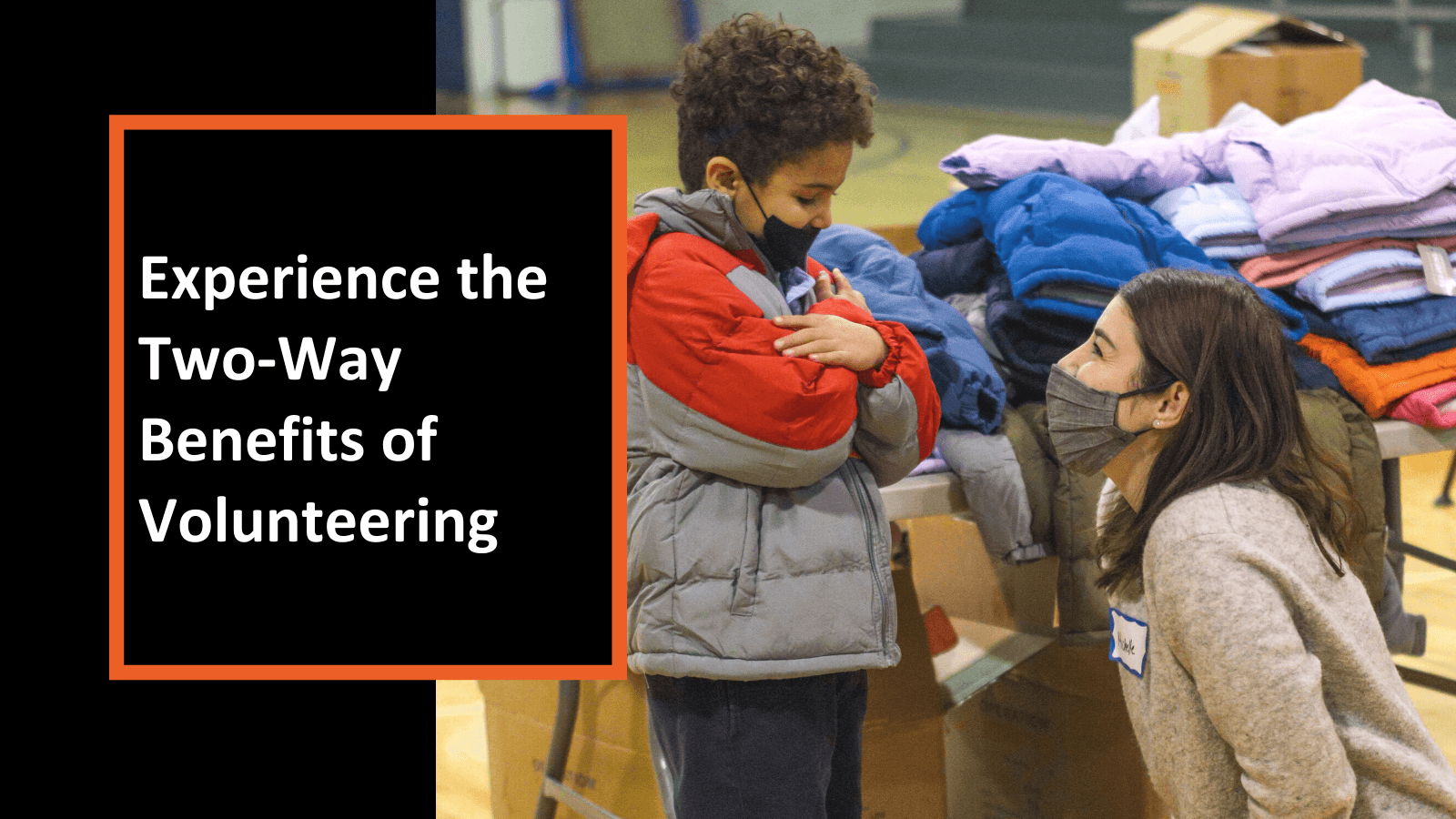 As Dr. Martin Luther King, Jr. famously said, "The time is always right to do what is right." Yet, in our busy lives, it's sometimes hard to set aside the time it takes to make a difference. 
At Operation Warm, we depend on volunteers to help us carry out our mission of providing brand-new winter coats and shoes to children in need. We offer many ways to get involved throughout the year, whether it's through hands-on volunteering at events, becoming a community partner and raising money through your community or religious organization, spreading the Operation Warm mission in your local area, gathering coworkers for a coat distribution event, or taking on a remote volunteer position. We're passionate about the benefits of volunteering—for the kids and families who receive our services and for our caring volunteers, who experience the joy and fulfillment of sharing their time to make an impact.
Volunteering doesn't just strengthen our communities. It's good for our health, helps to promote a positive outlook, reduces feelings of isolation, and reminds us that our efforts and contributions matter. While it's natural to feel frustrated about world problems that may appear impossible to fix, volunteering offers a chance to roll up our sleeves and face those problems head-on. So, it's no surprise that volunteers tend to feel better about their own lives by taking action. According to Project Helping, 96% of volunteers say that volunteering enriches their sense of purpose.
At Operation Warm, our valued volunteers say it best:
"I really enjoyed being able to meet one-on-one with the kids and give them their new coats. They were all SO grateful and were so happy to receive something new. I hope we can do this again next year. This is a very important community service project that has direct results."
"Despite the pandemic, the kids were able to receive brand new coats. This is, hands down, the best volunteer event. The kids feel so special getting a brand new coat and the parents are so grateful. I'm proud to volunteer for such a wonderful organization that truly touches the lives in the communities where we live and work."
"Providing warm new coats to our school children is one VERY meaningful project for our Rotary Club. We have sponsored this project for as many years as our Rotary District…has coordinated it. What a heartwarming hour we spend fitting these new coats to our students. One little girl's shout of joy filled our hearts—'look what I got from the Rotary store!'"
"We have worked with Operation Warm through our Rotary district and as a family donation cause since 2014. Because of our project, more than 20,000 children in Iowa have received new, warm coats. Many people didn't realize the amount of need in their own backyards. For some of these children, this coat may be the first brand-new item of clothing they've ever received. Several of our clubs continue the program year after year."
The time is now to get out and volunteer!
Whether you have a few hours to dedicate to service, or you are looking for a long-term volunteer opportunity, we want to encourage you to experience the benefits of volunteering for yourself.
Check out ways to get involved as a Community Impact Volunteer with Operation Warm