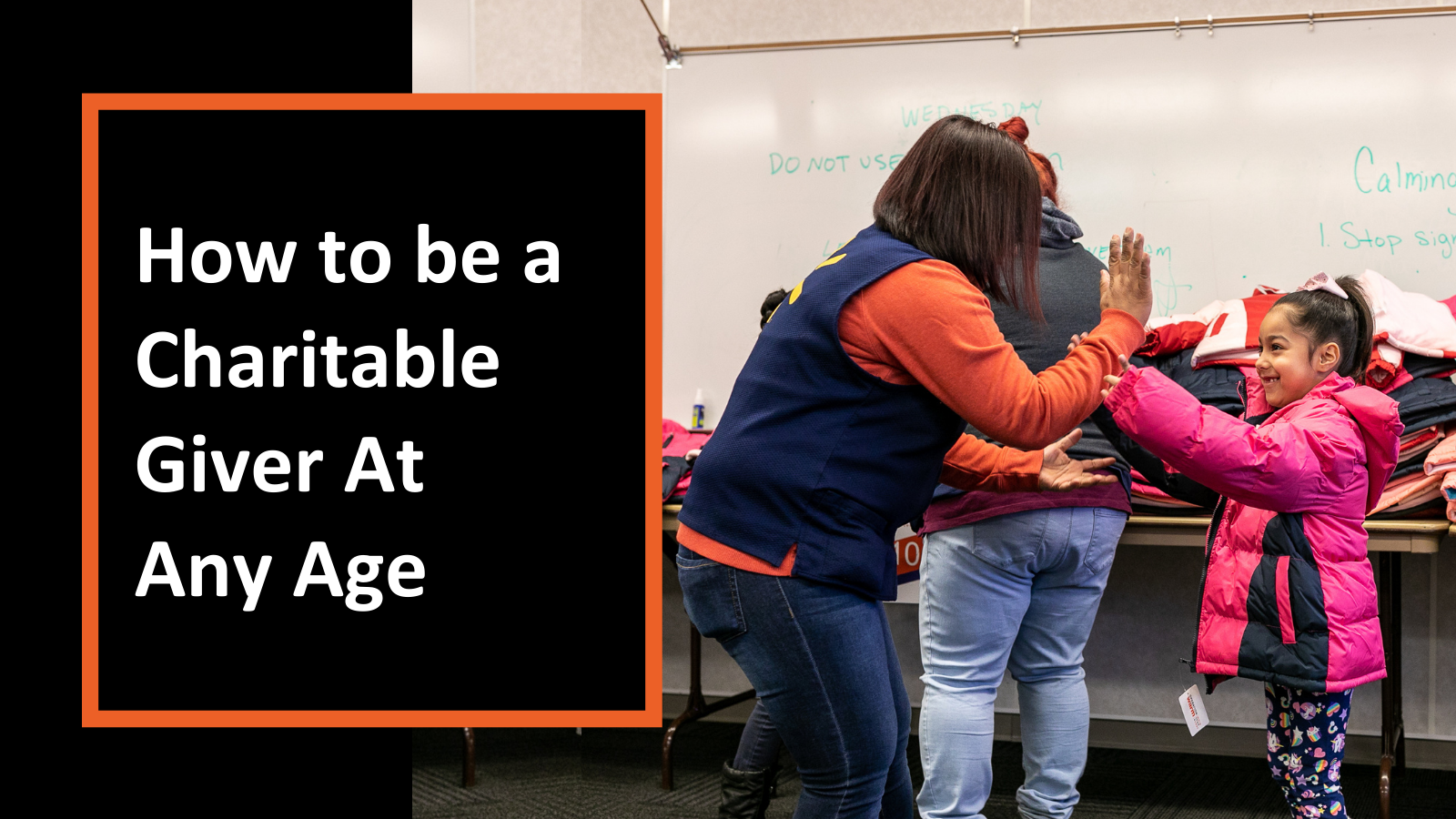 When it comes to charitable giving, it is less a question of when can you begin, and more of how to start. In a time of such great need and a cause out there for everyone, now more than ever, charities need your support. It is never too early or too late to start giving back, and there are countless ways to become a charitable giver at any age.

Starting Early
Children are often overlooked as an age group to be charitable because they don't have the financial means to donate. But in fact, this is the most important time in their lives to be learning and getting involved with charity, as habits tend to form by age 9.
Start a fundraiser

While children may not have the financial resources to donate to charity, the adults in their lives and communities just might. Starting a fundraiser as a child, or with your child, can be an exciting way to get involved and give back. The pandemic has made in-person fundraising efforts like bake sales or lemonade stands more difficult, but there are still plenty of ways to fundraise. Instead of birthday presents, ask for donations to your favorite charity like Kaitlyn did with Operation Warm, or collect books in your community to give back to a local library.

 
Teach kids to save in order to give

Parents are the number one influence on their child's financial behaviors, so teaching them how to save and then picking a charity to give back to together is a perfect way to develop charitable behaviors at a young age while also creating family traditions. Teach your child ways to save their allowance to donate back to others in need, or create an art project and make a household donation box where you can save money and collect items throughout the year to give back.
Getting Involved As A Teen Or Young Adult
From 13-18, teens and young adults are the next generation that will make decisive action in society. In these formative years, figuring out what causes matter to them and how to create change that will impact their futures, are top of mind. Growing up in a world full of technology and platforms to share their opinions on, there are plenty of ways to get involved with charitable giving as a teen or young adult.
Sign and share online petitions

According to YouGov's latest white paper 'What Motivates Charitable Giving?', this age group is more likely to volunteer and sign online petitions. While most young adults may not be old enough to vote on candidates to incite change, they can certainly support causes that matter to them through petitions and share those with family members and older relatives who can. As most activities shift into digital with the pandemic, it's only natural that the way to share does too.

 
Use social media to spread awareness

In 2018, 53% of Americans used social media to be civically active whether that was changing a profile picture to support a cause, using a hashtag related to a social issue, or more. With 97% of Gen Z using at least one of the seven major social platforms, this age group is highly engaged and can reach thousands of people. By spreading awareness about social issues that are important to them, they can be supporting tons of charities and organizations and make a huge difference in the exposure organizations and causes receive.
Being A Charitable Adult
There are many ways to be charitable as an adult, but the most common misconception is that you have to donate in large amounts. The most stated reason for not giving back to charity is that not having the financial resources. But, in the first half of 2020 alone, giving raised by almost 7.5%, even though it consisted of many donations less than $250, proving that small donations truly go a long way.
Find ways to give back in the workplace

Oftentimes, people are told to separate work and personal life, but charitability can cross over both. Many companies reward their employees charitable giving efforts by offering match donations. In fact, over 18 million individuals work for companies with matching gift programs. You can also give back in other ways. Extend your patience, empathy, and understanding for your co-workers or employees and connect on the causes that matter to them.
 
Support those in need, hands-on

With many companies still working remotely, use the time that you would typically spend commuting to make a difference in a tangible way. Donate cans to a local food pantry or start your own fundraiser to gift brand-new coats and shoes to children in need. Partner with a favorite restaurant to donate meals to essential workers during these tough times or pickup groceries for your immuno-compromised neighbors.
 
There are tons of ways to be a charitable giver no matter what age group you fall into. Find the way that works best for you and start giving back today.