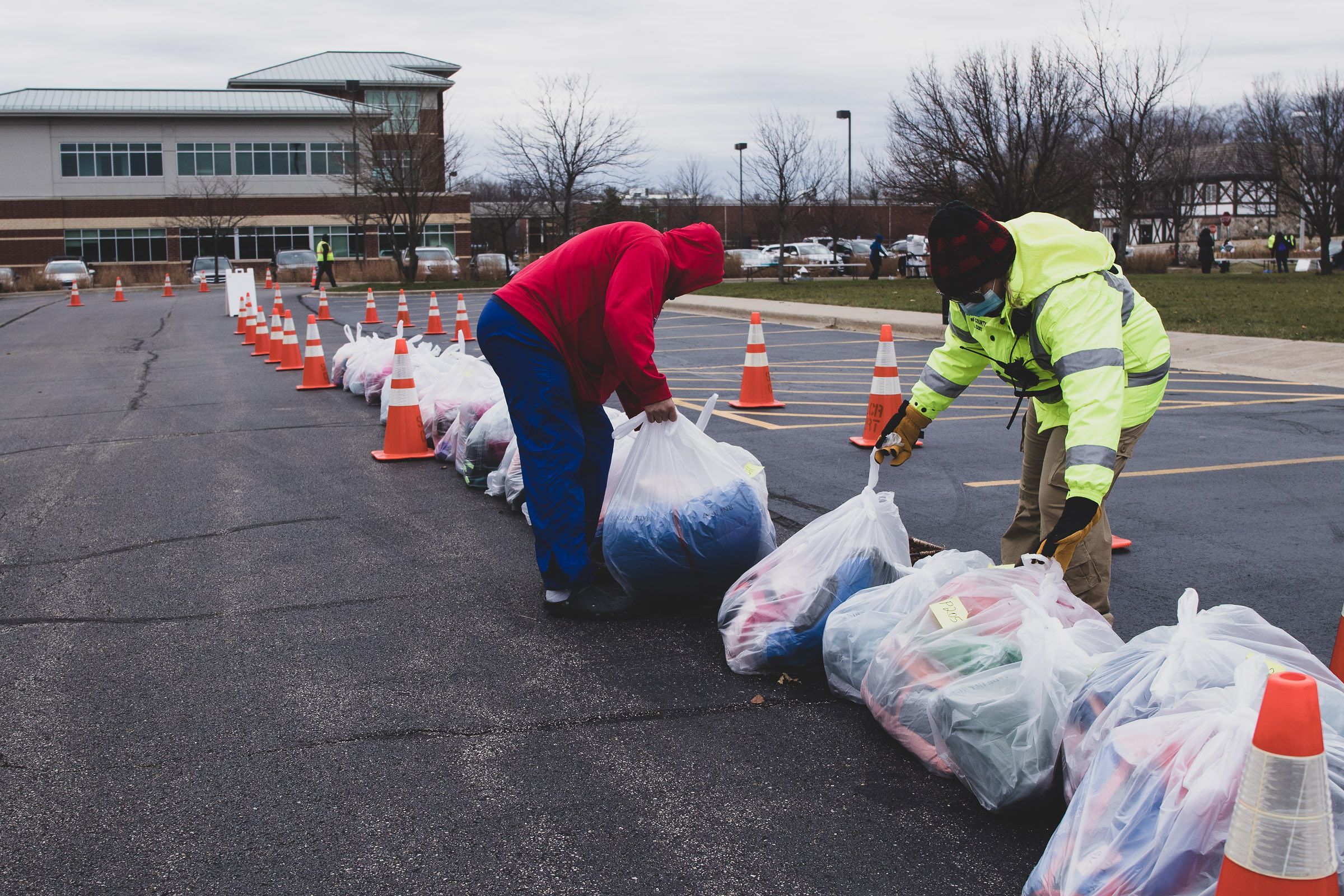 Amid the complexities of confronting child poverty, there's something beautifully simple—and powerful—about meeting a basic need. But is it enough? 
Operation Warm was founded on the concept of providing a fundamental necessity for kids: a warm, well-fitting winter coat. The gift of a coat has far-reaching benefits, including the pride of owning something brand new in the child's choice of color and style, the freedom to comfortably walk to school and play outside on cold days, and the hope that arises from realizing the community cares.
But the power behind fulfilling a simple need also depends on how we use the gift of a coat to open the door to other essential and life-affirming services for children and families. To deliver #MoreThanACoat, Operation Warm has needed to think creatively about how we can work toward larger-scale justice—not only in the basic needs space, but in ways that address the social determinants of health, tackle systemic causes of poverty, and promote less tangible aspects of child wellbeing, like self-esteem and feelings of belonging. As the new Executive Director of Operation Warm, I am eager to expand our partnerships with other organizations currently doing work that's similar to—or in some cases, very different—from ours. Our goal is to use the basic needs space, and every single coat we give, as an entry point for addressing systemic injustices.
Balancing Immediate Needs with Long-term Solutions
In our current environment, taking a collective approach matters more than ever as nonprofits work to both deliver temporary aid and achieve lasting change. COVID-19 has emphasized and exacerbated preexisting inequalities in income, health-care access, education, housing, and other determinants of health. Families with children were hit particularly hard, with low food security among children reaching 19 percent by the third week of July 2020. Yes, some of these spikes are temporary. But in many cases, the families most affected had already been left behind, and many of their challenges will remain even after the pandemic's urgency recedes. 
As nonprofit organizations rise to deliver on an increased and immediate need for basic necessities due to the pandemic, we should stay mindful of opportunities to do more than just address today's emergencies. Operation Warm's Warm Cities initiative is one example of doing just that. The program centers on coat distribution events that also connect families with much-needed support services. Coats bring families in the door, and while they're at it, they can learn about housing assistance, sign up for Medicaid, or even get a flu shot. We thereby achieve two vital goals: solving children's need for a warm coat today while introducing parents to resources that could have long-term impact.
In 2018, we launched our Warm Welcome to the Library program, where we partner with local libraries to deliver new coats along with literacy resources to help prepare kids for scholastic success. According to NAEP, just 35 percent of US fourth graders read at or above the proficient level. Some never catch up, with the National Center for Education Statistics reporting that 21 percent of US adults exhibit low literacy. By partnering with libraries to give children the gift of a coat, we accomplish more than incentivizing kids to read. We encourage them to set foot in a place that may initially feel intimidating, a first step that unlocks resources ranging from the latest YA bestseller to internet access and homework help. For many kids, a warm welcome to the world of books shows them they belong in the library. From those feelings of belonging and safety come lasting intrinsic and economic benefits.  
Empowering Kids to Be Their Best Selves
In both the above cases, we use a coat-as-incentive model—families and kids come for coats and encounter other helpful services. But this formula also works in reverse. Nonprofits can piggyback on services built around improving childrens' emotional wellbeing and self-esteem, such as LGBTQ+ and anti-bullying organizations, to help identify kids who need other kinds of assistance. In this way, we can tap into community specific knowledge in order to reach more children and deliver on basic needs. In turn, ensuring kids have their essential needs met helps them get more out of services that enable self-actualization. After all, it's easier for children to focus on learning new skills or forming positive relationships when they have warm, weather-appropriate clothing. 
We all know there's no single approach to weaving a more secure safety net for kids. What's important is how organizations with different goals and strategies for addressing child poverty come together to meet kids' complex physical and emotional needs. While every effort has the potential to make a difference, no single initiative is as effective at elevating children from poverty as a network of interconnected programs. Multiple organizations that collaborate to promote the wellbeing of children and families create a picture of community care and support that outshines a collection of disparate missions. Innovation in the basic needs space requires embracing rather than fighting the complexity of the challenges we face. In the case of Operation Warm, that means not just meeting a simple need but reimagining every coat we give as a point of light in a constellation of other services that can help children and families thrive.  

Learn how your organization can partner with Operation Warm to help us deliver #MoreThanACoat.