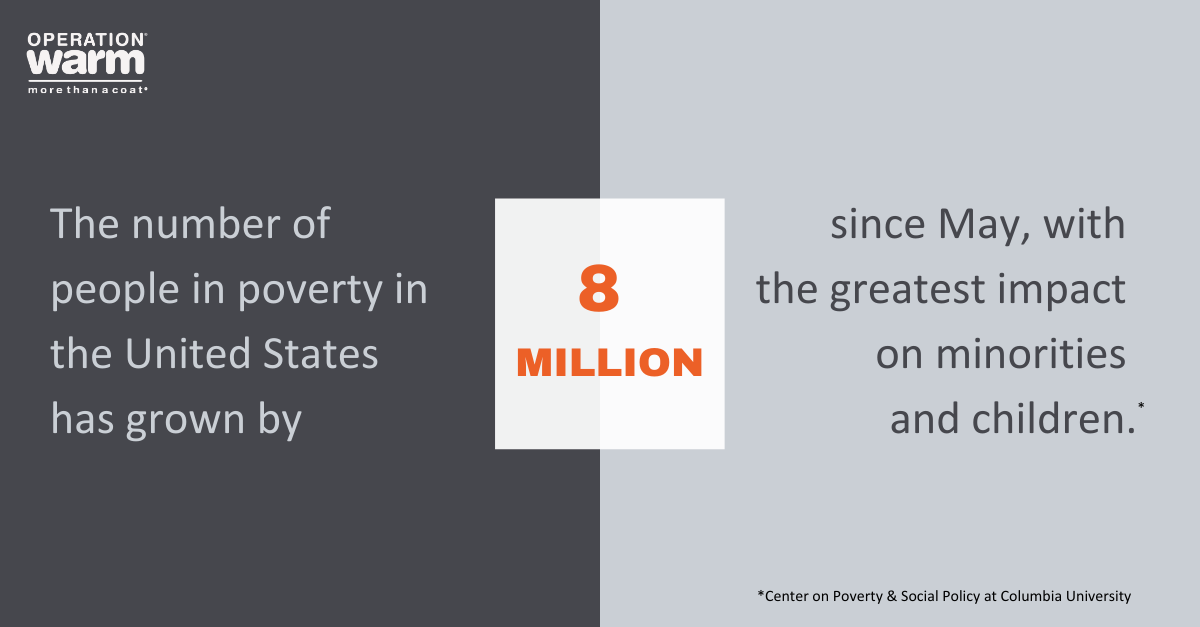 While early help eased the initial economic impact of the pandemic, individuals and families in the United States are once again struggling to stay out of poverty.
Prior to COVID-19, 1 in 5 children in America lived in Poverty. According to researchers at Columbia University who have been studying monthly income, the number of people in poverty in the United States has grown by eight million since May with the greatest impact on minorities and children.  It is estimated that 2.5 million additional children now fall below the poverty line and Blacks and Hispanics are experiencing a 25% poverty rate compared to a rate of 10% by their White counterparts.  
Not only the pandemic, but also natural disasters in parts of our country -  including hurricanes, tornadoes, and wildfires - contribute to hardship and Americans' are now struggling to cover basic necessities such as food and shelter. Not surprisingly, cases of anxiety and depression have increased as families worry about how they will make it through this difficult time.
As housing costs rise faster than incomes and the percentage of children who do not have health insurance increases, families are left with the tough choices of how they should spend their money.  They may need to choose between providing preventative screenings for their children, keeping the lights on; providing daily meals; or keeping their children warm with coats and heat. And the need keeps increasing. This year alone, Operation Warm has received over 400,000 requests for coats for kids in need through our Wish List.
As a bit of hope, these growing needs have led to positive responses from the philanthropic community, including, foundations, corporate giving, and individuals. In fact, food banks nationwide, from the beginning of March through the end of October, have distributed an estimated 4.2 billion meals to neighbors facing hunger in the United States. As we approach the holiday season especially, a time typically spent celebrating amongst loved ones, corporations and organizations are giving back basic necessities as a way and ensure everyone has what they need this season and beyond. Food items and homecooked meals; clothing items such as socks, hats, gloves, and coats; and gift cards to grocery stores, takeout restaurants, and gas stations top the list of what will be most needed and most appreciated this year.
Citations:
https://www.childtrends.org/indicators/children-in-poverty#:~:text=In%202017%2C%20slightly%20less%20than,risen%20during%20the%20Great%20Recession.
https://www.povertycenter.columbia.edu/news-internal/2020/covid-projecting-monthly-poverty
https://www.cnbc.com/2020/10/16/millions-have-fallen-into-poverty-since-may-as-federal-aid-has-ended.html
https://www.dol.gov/ui/data.pdf
https://www.feedingamerica.org/hunger-blog/food-bank-response-covid-numbers