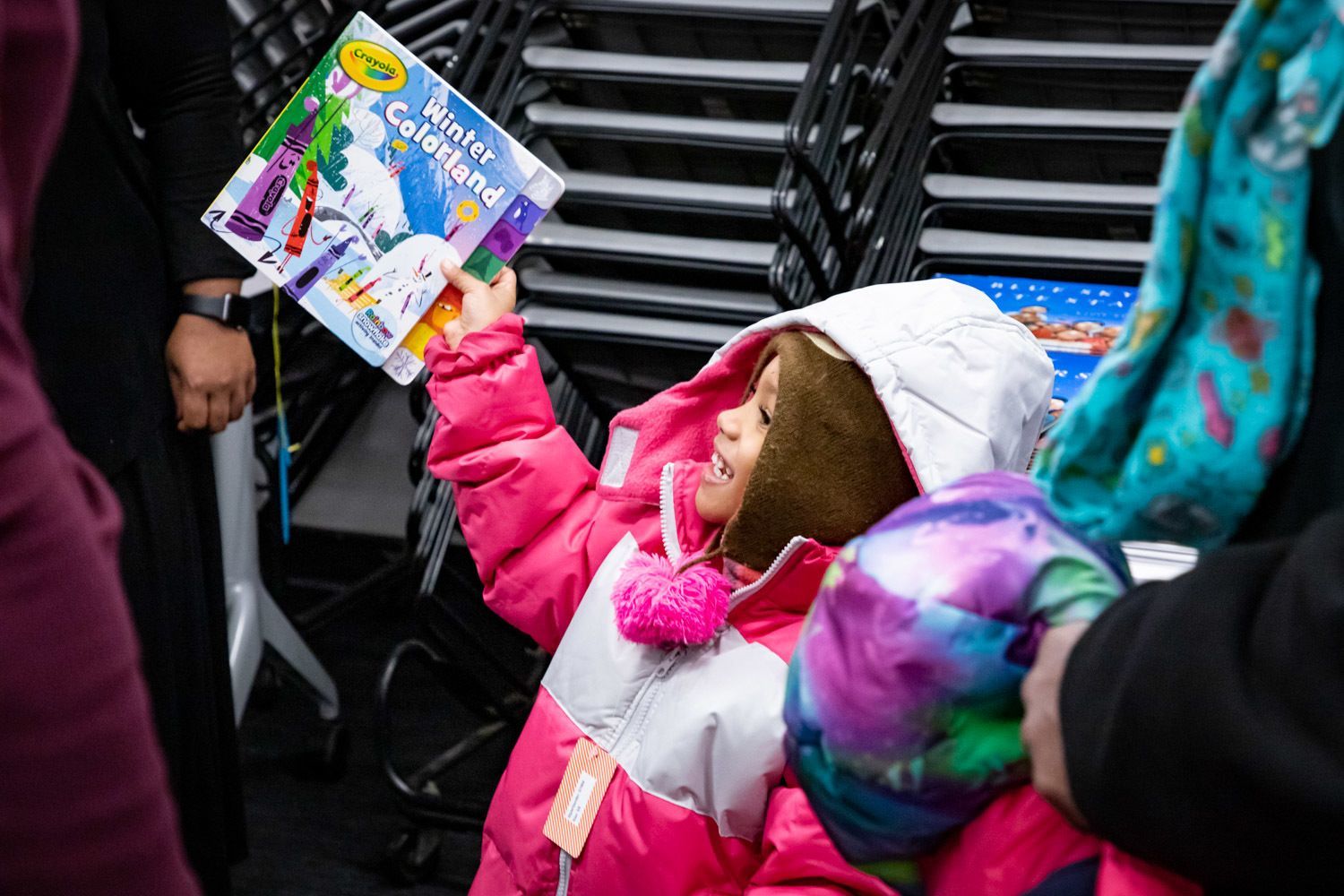 The International Alliance of Theatrical Stage Employees (IATSE) labor unions provide amazing support to children and families through their involvement in Operation Warm's library program – A Warm Welcome to the Library. The library program introduces children and families to all that their local libraries offer while gifting brand new coats and new books for children to take home.  
IATSE in Chicago was one of Operation Warm's first library program partners.  In fact, their organization supported one of two initial pilot programs during the fall of 2017.  The IATSE union members not only provided financial support but also volunteered during the event, providing brand new coats and books to 150 children.
After that initial pilot, Craig Carlson, Business Manager of Local 2 in Chicago, and a member of the National Executive Board, spread the word to other IATSE Locals during at their International General Executive Board Meeting. The following year and again last year, additional IATSE locals supported 8 total library programs held within the Boston Public Library, the Chicago Public Library system, the Poughkeepsie and Newburgh Free libraries, and the New York City Library featured in our program video.
Remarkably, even during the COVID-19 pandemic which has devastated the entertainment industry and put most IATSE members out of work, four locals and the IATSE General Executive Board led by International President Matt Loeb, are supporting A Warm Welcome to the Library this coming winter. They will be supporting programs at 8 libraries in Chicago, Poughkeepsie NY, and Nashville. 
When asked about IATSE's involvement, Marguerite Scott, President of Local 769 in Chicago, the wardrobe union, remarked, "We had a few ideas about the upcoming holidays, but children and coats is one of the best ideas that I've seen. The look on the children's faces is amazing.  They are so happy with their new coats."
About the International Association of Theatrical Stage Employees (IATSE): The IATSE union supports over 150,000 technicians, artisans, and craftspersons throughout the entertainment industry, including live theatre; motion picture and television production; and trade shows in both the United States and Canada.