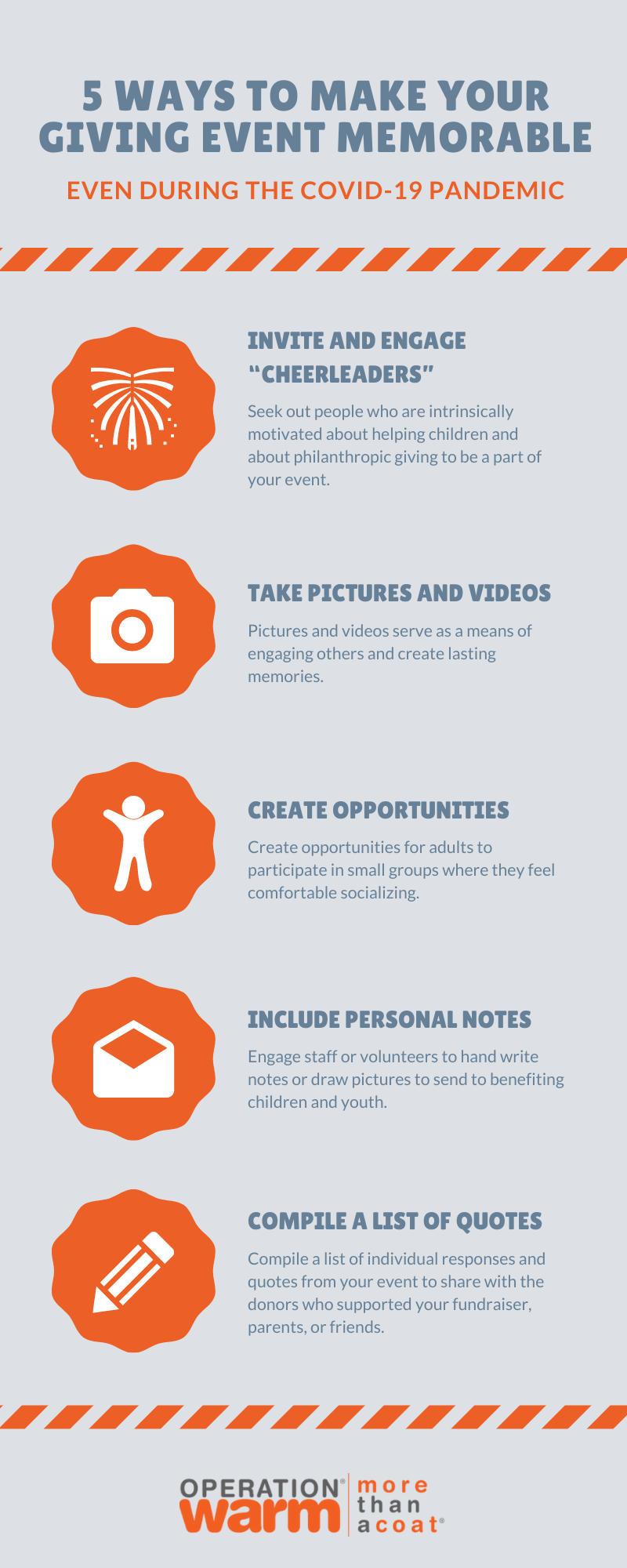 The memories created during Operation Warm's coat-gifting events are what children, volunteers, and staff talk about years later.  While our in-person events are full of smiles, music (and maybe even a happy dance or two) there is no reason that virtual events cannot be just as memorable. Here are some suggestions for keeping the memories alive: 
Invite and engage "cheerleaders" who are intrinsically motivated about helping children and about philanthropic giving.  Their interest and enthusiasm will show during in-person interactions with children and youth and will allow for easy communication and follow-up if you cannot all get together.
Take pictures and videos. If activities occur in small groups or even in a one-on-one fashion, pictures and videos that can be posted or streamed in school, published in a Newsletter, or emailed to a parent or family member serve as a means of engaging others and create lasting memories.
Create opportunities for adults to participate in small groups where they feel comfortable socializing. Volunteers for Operation Warm often get together to sort coats and pack boxes to be shipped to schools and Nonprofits for distribution to children and youth.
Include personal notes. Engage staff or volunteers to hand write notes or draw pictures to send to benefiting children and youth. Our Warm Thoughts volunteer engagement activity offers volunteers templated artwork to personalize and color that will be included with each of our coats to personalize our gift. 
Compile a list of individual responses and quotes from children who received a coat from your event to share with the donors who supported your fundraiser, parents, or friends.  Sharing memories may spark additional positive responses and memories for others.