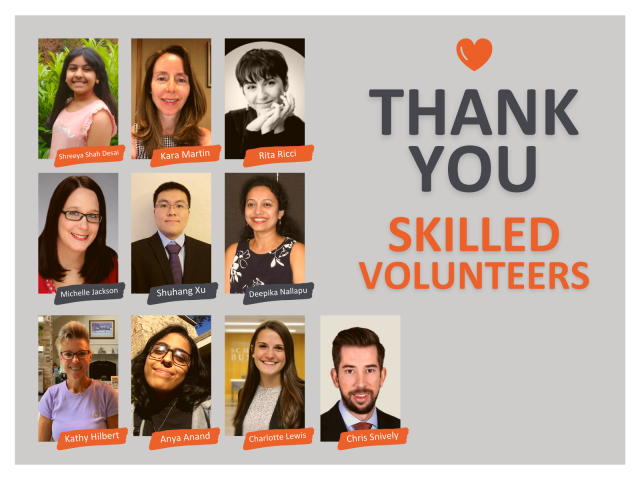 Operation Warm's skilled volunteers are an important part of our mission. They contribute to coat design, data entry and analysis, logistics, marketing projects and more.
These students and professionals offer the expertise and experience we need and help ensure we can deliver on our mission, so as many children as possible can know the warmth, confidence and hope that brand new coats provide.
Our skilled volunteers come from all over the country and work virtually on important projects.
We would like to take the time to thank each and every one of our skilled volunteers. We couldn't do it without you!
Thank you to our friends at:
Lazard
Laura Trivelli
Christopher Snively
Kara Martin
Rita Ricci
Catherine Plante
Ana Paranos
Michelle Jackson
Jessica Garay
Nanette Molina
FedEx
Rachel Kesselman
Keerthichandra Nagareddy
Emily Bowlan
Durrell Parham
UC Berkeley Students
Shuhang Xu
Wen-Hao Chiou
Shaobo Hu
Renlian Chen
Yushi Zhou
Events DC
Ahmed Abdelrahman
Julia DeBrosse
William Hays
Charlotte Lewis
Ryan Nunn
Valeria Perdomo
Tijuan Rhue
Paige Sanders
Gary Snyder
LaDarius Watkins
Karima Winter
Individual Volunteers
Poli Struk
Chanel Harris
Beth Levin
Chloe Levin
Tina Chen
Anya Anand
Kathy Hilbert
Angelo Sica
Shakira Fender
Sravani Arji
Mauli Desai
Sharda Desai
Caroline Wanyonyi
Eswari Adari
Priyanka Krovi
Deepika Nallapu
Interested in joining our team of skilled volunteers? Send us an email.