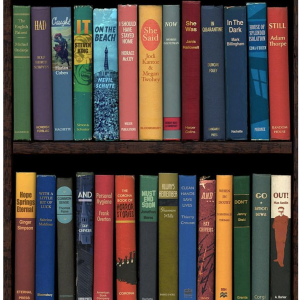 Digital-printmaker Phil Shaw creates a COVID short story using books. Via Instagram @philshaw755
As weeks turn into months for many states with lockdown orders, library workers are winning it all across the country. They are doing what librarians do best, supporting their communities and getting creative.
New York Governor, Andrew Cuomo called one initiative by the New York Public Library a "deep breath moment" to help bring New Yorkers together.
Here is more information about the NYPL's creative offering as well as other ways our public libraries continue to support us though the COVID-19 crisis.
The Sound of Silence: Visiting the Library During Lockdown
What do many New Yorkers say they miss the most? One of the most popular "check outs" in the city has been recording of ambient noise – the peaceful murmur many readers love.
How to Get Free Kindle Books with Your Library Card
A majority of public libraries are stepping up the number of ebooks available to patrons, shortening the hold time on the most popular books and making even more titles available. Learn how you can get free books to read right now.
Libraries 3D Print Face Masks, Offer Virtual Story Times and Offer Virtual Library Cards
Libraries are getting very creative, from shifting popular programs online to connect with isolated seniors via chat. Here are some of the most innovative offerings.
Read more via the American Library Association
Drive Up Internet Access Sites
Some libraries around the country have boosted their Wi-Fi signals, so patrons can safely park and get free Internet access. Others have converted bookmobiles into hot spots, parking them school or grocery store lots.