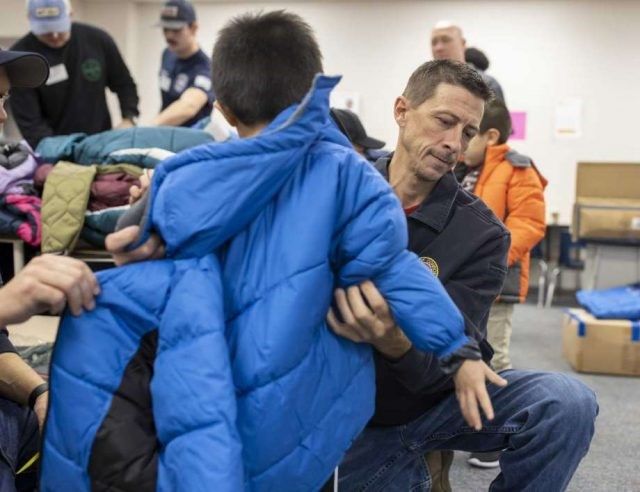 This week on Fire fighters in the News...
Story Credit: Chron- Jose R. Gonzales
Keeping warm: Conroe firefighters outfit 300 students with coats
Gregory Nesom of the the Conroe Professional Firefighters Foundation, helps a student of Anderson Elementary try on a coat for Operation Warm, in Conroe, Wednesday, Jan. 15, 2020. An estimated 100 kids from pre-k to 4th grade were given coats at this year's drive..
Story Credit: KPVI News 6 - Rachel Cox-Rosen
Pocatello Fire Union 187 gives out to underprivileged kids with operation warm
Pocatello Firefighter Union 187 brought the heat Tuesday, but it had nothing to do with fire. Firefighters were at Lincoln Head Start Tuesday morning, giving out warm coats to kids in need.
Story Credit: MLive.com - J. Scott Park
Jackson police, firefighters brighten kids holidays with shopping sprees
City of Jackson fire fighters raised money to buy 130 winter coats to be distributed to children in need through their Operation Warm program.
Story Credit: WMDT 47 - Sarah Ash
Local firefighters distribute winter coats to students in worcester co.
BERLIN, Md. — 50 elementary school students are getting a warmer winter, thanks to a program from the Worcester County Professional Firefighters and the Berlin Fire Department.
Story Credit: The Eagle - Megan Rodriguez
Season of caring: Bryan firefighters donate coats for kids in need
The Bryan Firefighters Association is giving away 1,000 coats to Bryan ISD students from six schools this week. The association helps fund multiple charity events and organizations throughout the year, but the coat giveaway is one of the largest events.
Story Credit: Carson Now
East Fork Professional Firefighters Association donates 150 new coats to douglas county children
GARDNERVILLE — Just in time for more cold and snowy weather this weekend, East Fork Professional Firefighters IAFF Local 3726 donated 150 brand new coats to kids at the Boys & Girls Clubs of Western Nevada Carson Valley Clubhouse and Douglas County School District this week through the Operation Warm Coats for Kids Foundation.
Story Credit: WV MetroNews
Morgantown effort helping keep kids warm
MORGANTOWN, W.Va. — Firefighters and a local business have teamed up to help kids keep warm in the coming months.
Morgantown Firefighters Local 313 along with financial support from TeleTech are providing more than 350 Monongalia County kindergarten and first grade students with new winter coats.

Join hundreds of fire departments across the country to give brand new coats to children in the communities you protect.